Offense on display at Day 3 of the NAHL Showcase
September 23, 2017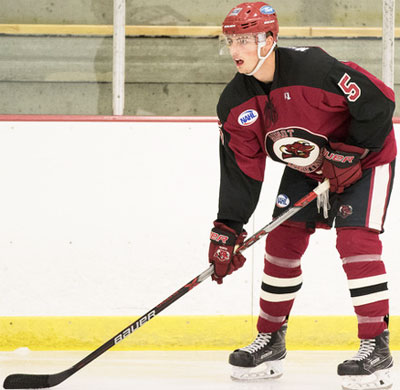 Offense was on display on Day 3 of the NAHL Showcase at the Schwan Super Rink in Blaine, MN.
In the 12 games during the day, a total of 70 goals were scored as players and teams continue to get more comfortable with one another to start the season.
A record number of scouts have check in through three days of the event. In total, more than 320 scouts are attending the event, which includes a record number of NCAA Division I and NHL scouts.
Day 3 takes place on Saturday, September 23.
Showcase Central
All NAHL Showcase games will be broadcast live in HD through
HockeyTV
, the official broadcast provider of the NAHL.
Day 3 recaps:
Minot 5 vs. Topeka 4 – The Minotauros won their second straight game of the Showcase thanks to three-point games from Colby Enns, Grant Loven and David Raisanen as they defeated Topeka, 5-4. Minot held a 3-1 lead after one period thanks to goals from Noah Ganske, Raisanen and Loven. Alex Frye had the lone marker for the RoadRunners in the opening period. Topeka was able to tie the game at 3-3 thanks to two goals in the 2nd period from Zeke Zeier and Austin McCarthy, but Minot would regain their one goal lead with :15 seconds left in the period courtesy of a goal from Colby Enns. Topeka would once again knot the game, this time early in the 3rd period with a goal from Chad Hillebrand, but Enns would score his second of the game with less than seven minutes left to win the game. Jacob Sibell made 31 saves in the win, while Sam Metcalf made 29 saves in the loss. Boxscore
New Jersey 4 vs. Coulee Region 1 – The Titans stayed perfect at the NAHL Showcase thanks to a 4-1 win over the Chill. The Titans dominated, outshooting their opponents, 30-12. New Jersey got on the board first with a 1st period goal from Kyle Jeffers. The Chill tied the game at 1-1 thanks to a 2nd period power play goal from Marshal Plunkett, but the Titans were quick to regain the lead thanks to a goal from Tyler Antonucci. In the 3rd period, Ryan Naumovski and Matthew Cameron padded the lead with goals to make the final, 4-1. Brandon Perrone made 11 saves in the win, while Josh Graziano made 26 saves in the loss as the Chill dropped to 0-2-1 on the season. Boxscore
Aberdeen 5 vs. Johnstown 1 – The Wings put in a dominant performance to pick up their first win of the season as they got 28 saves from Cade Phipps in a 5-1 win over the Tomahawks. Five different players scored for Aberdeen, who got a 1st period goal from Riley Murphy and three more goals in the 2nd period from Joe Strada, Nathan Burke and Colton Fletcher to seize a 4-0 lead. Johnstown broke the shutout early in the 3rd period with a goal from Logan Stork. Aberdeen's Andrew Walker rounded out the scoring with a goal late in the 3rd period. Johnstown goalie Jack Faulkner made 36 saves in the loss. Boxscore
Philadelphia 3 vs. Corpus Christi 1 – Thanks to two goal from Andrew Bellant and 23 saves from Eli Billing, the Philadelphia Rebels stayed perfect on the season and at the NAHL Showcase with a 3-1 win over the Corpus Christi IceRays, who dropped to 1-4 on the season. The Rebels held an early 1-0 lead thanks to a 1st period goal just over a minute into the game from Bellant. That lead stood until midway through the 3rd period as Larry Jungwirth tied the game at 1-1, knocking home a loose puck from a scramble in front. The Rebels game-winner came with just under five minutes remaining in the game thanks to Jensen Zerban's 3rd goal of the season. Bellant would add his second of the game late to make the final, 3-1. IceRays goalie Cam Bruggrabe made 18 saves in the loss. Boxscore
Wilkes-Barre/Scranton 4 vs. MN Wilderness 3 – The Knights pushed their record to 4-1 on the season as they clawed back from a 3-1 deficit to beat the Minnesota Wilderness, 4-3 on Day 3 of the Showcase. The Wilderness remained winless with the loss. The Wilderness grabbed an early 1-0 lead thanks to a goal from Blake Bride. That was quickly answered by Knights forward Tyrone Bronte, who netted his 3rd goal of the season to tie the game at 1-1. The Wilderness then grabbed a 3-1 lead thanks to goals from Eric Gotz later in the 1st period and Gino Lucia in the 2nd period. The Knights comeback began with a goal late in the 2nd period from Matthew Kidney and then two more in the 3rd period from Lincoln Hatten and the game-winner from Thomas Farrell. Knights goalie Christian Stoever made 33 saves in the win, while Ryan Fanti took the loss for the Wilderness, making 38 saves. Boxscore
Lone Star 3 vs. MN Magicians 2 – Offense was hard to come by, but a late goal gave Lone Star their first win of the Showcase as they edged the Magicians, 3-2. The Brahmas never trailed in the game and scored the game's first goal courtesy of Austin O'Rourke. The Magicians answered back with a goal midway through the 2nd period from Carter Breitenfeldt, but the Brahmas were quick to answer back and regain their one-goal edge thanks to a goal from Trevor Zenas. Late in the 3rd period, the Magicians tied the game at 2-2 thanks to a shorthanded goal from Charlie Weiand, but the Brahmas managed to find the game-winner with just :22 seconds remaining in regulation as a shot from the point was tipped home by Jared Domin. Mitchell Gibson made 12 saves in the win, while Isaiah Saville made 21 saves in the loss for the Magicians. Boxscore
Northeast 5 vs. Kenai River 4 – The Northeast Generals moved their record to 5-1 on the season as they won their third straight game at the NAHL Showcase with a close 5-4 win over Kenai River. Five different players scored for the Generals, which included three, 1st period goals from Shawn Montgomery, Justin Jallen and Justin Kelley. The Generals added two goals in the 3rd period from Joseph Mancuso and Mike Egan. The Brown Bears made a game of things thanks to a first period goal from Emils Ezitis and three goals in the 3rd period including a pair from Gil Garcia and another from Luke Radetic. Marko Sturma made 32 saves in the win for the Generals, while Colt Hanks made 29 saves in the loss. Boxscore
Odessa 2 vs. Janesville 1 – Odessa goalie Brett Epp made 42 saves to lead the Jacks to a 2-1 win in their second straight win at the NAHL Showcase. The loss for the Jets (3-1) was their first of the young season. Despite 85 combined shots, goals were hard to come by thanks to good goaltending from both sides. The Jets broke through first with a 1st period goal from Brenden MacLaren, his 4th of the season. Odessa equalized in the 2nd period to tie the game at 1-1 thanks to a goal from Zach Heintz. The game-winner came off the stick of Lucas Andersson with 12 minutes remaining in the 3rd period. Jets goalie Daniel Lebedeff played well in the loss, making 40 saves. Boxscore
Fairbanks 5 vs. Brookings 1 – The Fairbanks Ice Dogs stayed perfect on the season and at the NAHL Showcase thanks to a convincing 5-1 win over the Brookings Blizzard, who suffered their first loss of the season. Caleb Hite had two goals and an assist in the win and Josh Benson made 20 saves between the pipes for the Ice Dogs. Fairbanks jumped out to a 3-0 lead, which included two goals from Hite and another from Erkka Vanska. Brookings cut into the lead midway through the game as Cameron Teamor scored their lone goal, but the Ice Dogs would add two more goals from Samuel Ruffin and Tanner Schachle to secure the win. Ben Robataille took the loss in goal for the Blizzard, making 37 saves. Boxscore
Amarillo 3 vs. Bismarck 2 - Jason Grande made 26 saves to lead the Amarillo Bulls to a close 3-2 win over the Bismarck Bobcats on Day 3 of the NAHL Showcase. The Bulls jumped out to a 2-0 lead with a pair of 1st period goals from Marcus Chorney and Quinn Warmuth. The Bobcats cut into the lead to make the score 2-1 as Patrick O'Connor lit the lamp for his first goal of the season in the 2nd period. After a back and forth 3rd period, the rest of the scoring came late as the Bulls netted their third goal of the game thanks to a power play tally from Brett Abdelnour. Bismarck added a late goal with a second remaining from the stick of Pavel Kharin. Bobcats goalie Vladimir Cibulka made 32 saves in the loss. With the win, the Bulls moved their season record to 3-1. Boxscore
USNTDP 4 vs. Austin 3 – The Austin Bruins put forth great effort against a very good NTDP team from the USHL, but in the end, the NTDP edged out the Bruins in front of a packed house in Rink 4 at the Schwan Super Rink by a score of 4-3. The two clubs were tied 2-2 after one period with the Bruins getting goals from defensemen Lane Krenzen and Jaden Shields, who both fired home shots from the point, while the NTDP got two goals from Ohio State recruit Cole Caufield. In the 2nd period, the NTDP took control with two goals to make it 4-2 from Harvard recruit Sean Farrell and the eventual game-winner from Boston University recruit Trevor Zegras. The Bruins drew to within a goal late in the period thanks to a strike from Jarod Blackowiak. A scoreless 3rd period saw the Bruins struggle to generate good scoring chances as the NTDP held on for the one-goal win. Bruins goalie Mads Sogaard was excellent in his NAHL debut, making 46 saves. NTDP goalies Cameron Rowe and Spencer Knight split the game with each making 9 saves. Boxscore
Shreveport 4 vs. Springfield 0 – In his NAHL debut, James Durham stopped all 20 shots that came his way to lead the Shreveport Mudbugs to a 4-0 shutout of the Springfield Jr. Blues in the final game of Day 3 at the NAHL Showcase. The Mudbugs stayed perfect at the event with a 3-0 record. The Mudbugs took a 2-0 lead in the 1st period thanks to a pair of power play goals by Ryan Burnett. After a scoreless 2nd period, the Mudbugs added two more goals in the 3rd period, which included tallies from Giovanni Carabelli and Roberts Baranovskis. Michael Corson took the loss in goal for the Jr. Blues, making 18 saves. Boxscore