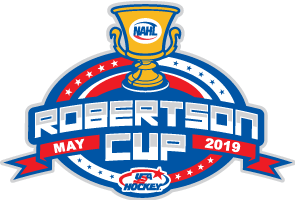 Robertson Cup Championship
Fogerty Arena -

Blaine,

MN
May 10 - 13, 2019
9250 Lincoln St. NE, Blaine, MN 55434
Robertson Cup Championship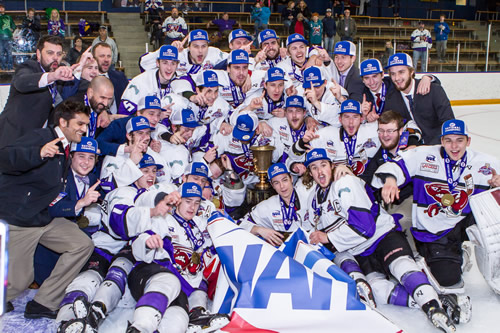 Past Robertson Cup Champions

| Year | Champion |
| --- | --- |
| 2018 | Shreveport Mudbugs |
| 2017 | Lone Star Brahmas |
| 2016 | Fairbanks Ice Dogs |
| 2015 | Minnesota Wilderness |
| 2014 | Fairbanks Ice Dogs |
| 2013 | Amarillo Bulls |
| 2012 | Texas Tornado |
| 2011 | Fairbanks Ice Dogs |
| 2010 | Bismarck Bobcats |
| 2009 | St. Louis Bandits |
| 2008 | St. Louis Bandits |
| 2007 | St. Louis Bandits |
| 2006 | Texas Tornado |
| 2005 | Texas Tornado |
| 2004 | Texas Tornado |
| 2003 | Pittsburgh Forge |
| 2002 | Compuware Ambassadors |
| 2001 | Texas Tornado |
| 2000 | Danville Wings |
| 1999 | Compuware Ambassadors |
| 1998 | Compuware Ambassadors |
| 1997 | Springfield Jr. Blues |
| 1996 | Springfield Jr. Blues |
| 1995 | Compuware Ambassadors |
| 1994 | Compuware Ambassadors |
| 1993 | Kalamazoo Jr. K Wings |
| 1992 | Compuware Ambassadors |
| 1991 | Kalamazoo Jr. K Wings |
| 1990 | Compuware Ambassadors |
| 1989 | Compuware Ambassadors |
| 1988 | Compuware Ambassadors |
| 1987 | Compuware Ambassadors |
| 1986 | Compuware Ambassadors |
| 1985 | St. Clair Falcons |
| 1984 | St. Clair Falcons |
| 1983 | Paddock Pools |
| 1982 | Paddock Pools |
| 1981 | Paddock Pools |
| 1980 | Paddock Pools |
| 1979 | Paddock Pools |
| 1978 | Paddock Pools |
| 1977 | Paddock Pools |
| 1976 | Little Caesars |
The North American Hockey League (NAHL) has announced that the 2019 Robertson Cup National Championship will be played at the Fogerty Arena in Blaine, Minnesota, from May 10-13, 2019.
The Robertson Cup is awarded to the national playoff champion of the NAHL. The oldest junior hockey trophy in the United States, the Robertson Cup is named in honor of Chuck Robertson, a pioneer of junior hockey in the NAHL and youth hockey in the state of Michigan. Robertson was the owner of the Paddock Pools Saints when they won a record seven straight championships from 1976-83.
Opened in 1982, Fogerty Arena has continued to provide the communities of Blaine and Spring Lake Park with one of the State's finest Civic Center/Ice Arenas. Reminiscent of arenas across the NAHL landscape with a main arena seating capacity of 1,800 spectators, Fogerty Arena has hosted thousands of hockey events including State Championships and even NCAA events. In addition to the two, full-size ice hockey rinks, a third facility was built in 2012 with dedicated curling ice and the Sticks & Stones Restaurant, becoming the first year round curling facility in North America. Fogerty Arena is also home to the Blaine Bengals High School Hockey team.