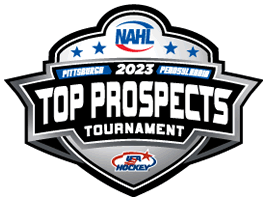 NAHL Top Prospects Tournament
The North American Hockey League (NAHL) has announced that the 2023 NAHL Top Prospects Tournament will return to the UPMC Lemieux Sports Complex in Cranberry Township, Pennsylvania, and be held from February 6-7, 2023. The UPMC Lemieux Sports Complex is the practice home to the NHL's Pittsburgh Penguins and was home to the 2022 NAHL Top Prospects Tournament last season.
The NAHL Top Prospects Tournament is one of the most highly scouted events of its kind, featuring almost every NHL team and NCAA Division I school. it continues to provide the hundreds of NHL and NCAA scouts in attendance with a look at the best uncommitted players the NAHL has to offer, as well as some potential NHL Draft picks. It is an important part of the NAHL event model, which is inclusive of the NAHL Showcase in September and the NAHL Robertson Cup National Championship in May.
"We are thrilled to be returning to the UPMC Lemieux Sports Complex for the 2023 NAHL Top Prospects Tournament. We had a great experience and scout turnout last season, and we look forward to showcasing some of the best uncommitted players and NHL prospects that the NAHL has to offer," said NAHL Commissioner and President Mark Frankenfeld. "The NAHL Top Prospects Tournament is the most unique event we host because its sole purpose is to provide those players that are still uncommitted a great opportunity to play in front of hundreds of NCAA and NHL scouts for a chance to make a great impression and earn an NCAA commitment or get drafted into the NHL. Scouts now have an established roadmap to track a player's development, which includes assessments throughout the season and then making a determination based on his progression."
The number of players each NAHL team is sending to the tournament, in which four teams from the four NAHL divisions: Central, East, Midwest and South, will each play in two game games, was based on each team's winning percentage within their group as of January 8, 2023. Only those NAHL players without an NCAA commitment are eligible to participate in the 2023 NAHL Top Prospects Tournament, except for those who have been identified by NHL Central Scouting as prospects for the 2023 NHL Draft. Each team is comprised of 22 players (13 forwards, 7 defensemen, 2 goalies) for a total of 88 players. Rosters for the four teams are expected to be announced on January 25th.
The UPMC Lemieux Sports Complex is the primary practice and training facility for the Pittsburgh Penguins as well as a comprehensive outpatient facility for UPMC Sports Medicine. This first-of-its-kind facility in the Pittsburgh region is a true partnership between two world-class organizations, and features 185,000 square feet of total space dedicated to treating, training and inspiring athletes at every level. This multi-use facility is a destination for athletes of all ages and skill levels seeking sports medicine, performance, and rehabilitation expertise as well as hockey-specific skills and performance training. UPMC Lemieux Sports Complex has hosted prominent events such as the NHL's Kraft Hockeyville Game, USHL's Fall Classic, NWHL regular-season games and All-Star weekend, as well as USA Hockey National Championships and tournaments.