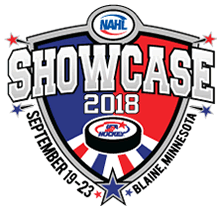 2018 NAHL Showcase
Schwan Super Rink -

Blaine,

MN
September 19 - 22, 2018
1700 105th Ave NE, Blaine, MN 55449

Scouts
Scout Packets
The North American Hockey League (NAHL) announced today that scout passes for the 15th annual NAHL Showcase are now on sale. All 23 NAHL teams will play four regular-season games at the Showcase, which is one of hockey's most prominent and popular events of the entire season. The event will be held from September 20-23, 2017 at the Schwan Super Rink in Blaine, Minnesota. A 2016 NAHL Showcase schedule is expected to be released in the very near future. The first game will begin at 10am on Wednesday, September 20th.
Scout passes are $100 for the entire event and include the following:
Credential with lanyard
Admission to all games (NAHL and NAPHL)
Admission to exclusive scout room
Event program with rosters
NAHL scout book with player information
Line-up charts
Food (breakfast, lunch and dinner)
Beverages (coffee, tea, water, soft drinks)
Special scout gift from the NAHL
NOTE: Daily scout passes will be available for $35 and include all of the benefits listed below, however, daily scout passes are only available for purchase at the door during the event.
For scouting purposes, the NAHL Showcase is the premier event of its kind and is a yearly gathering for every NCAA program and NHL team as they get their first look at some of the best and brightest hockey talent North America has to offer. Last season over 330 NHL, NCAA and junior scouts attended the event.
The NAHL, the only USA Hockey-sanctioned Tier II Junior league boasting 23 teams from across North America, prides itself on the social maturity and skill development of student-athletes ages 16-20 with aspirations of advancing to collegiate and/or professional hockey. During the 2016-17 season, the NAHL set a new single-season record with 290+ NCAA commitments, 70% of which were NCAA Division I commitments. In addition, three current NAHL players were selected in the 2017 NHL Entry Draft.
The Schwan Super Rink is the largest ice arena of its kind in the world. The state-of-the-art facility, a $21 million project totaling over 300,000 square feet, features eight sheets of ice under one roof. With all its varied amenities and services, the Schwan Super Rink is absolutely unique in the world of ice sport facilities.
It will be the first event of the season for the NAPHL, which will also be played in conjunction with the Showcase. Now entering its eighth season, the NAPHL is made up of 45 teams that compete at the 18U, 16U and 15U levels.
NAHL Contact
Alex Kyrias
Director of Communications & Sales
Phone: (972) 468-8756
e-mail