Day 2 of the Showcase features close competition
September 22, 2017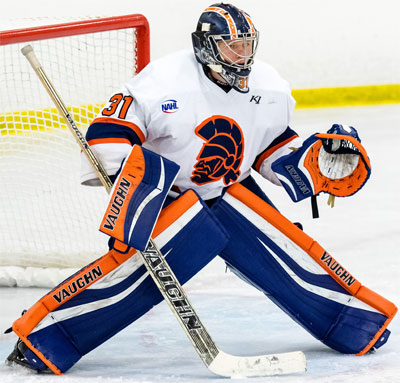 Day 2 of the NAHL Showcase on Thursday at the Schwan Super Rink featured some more great competition, as 8 of the 11 games were decided by two goals or less.
Some new faces are starting to make some noise and grab some attention based on their play through the first two days, which has seen more than 260 NHL and NCAA scouts check in during the event.
Day 3 takes place on Friday, September 22.
Showcase Central
All NAHL Showcase games will be broadcast live in HD through
HockeyTV
, the official broadcast provider of the NAHL.
Day 2 recaps:
Northeast 1 vs. Austin 0 – In the first game of Day 2 of the NAHL Showcase, it was a goaltenders duel and Northeast goalie David Fessenden and Austin goalie Alex Schilling went save for save, but in the end, it was Fessenden's 30 saves that propelled the Generals to a 1-0 shutout win, which moved the team's record to 4-1 this season. The lone goal of the game came very early in the 1st period as Matthew Wiesner scored his 3rd goal of the season. Schilling made 26 saves in the Bruins loss, which was their first regular season game of the 2017-18 season. Boxscore
Fairbanks 4 vs. Corpus Christi 2 – Hunter Wendt scored twice to lead the Ice Dogs to a 4-2 win over the Corpus Christi IceRays on Day 2 of the NAHL Showcase. Fairbanks took a 2-0 lead thanks to a 1st period goal from Jake Willets and the first from Wendt early in the 2nd period. The IceRays cut the lead to 2-1 thanks to a goal early in the 2nd period from John Moncovich, but Fairbanks regained their two-goal edge with a goal from Trenton Woods. Early in the 3rd period, the IceRays cut the lead down to 3-2 as Jack McDonough scored, but Wendt's second of the game later in the final frame secured the win. Fairbanks goalie Logan Neaton made 21 saves in the win, while Cam Burggrabe made 22 saves in the loss. Boxscore
Shreveport 2 vs. Wilkes-Barre/Scranton 1 – The Mudbugs won their second straight game at the Showcase as they edged Wilkes-Barre/Scranton 2-1 to hand the Knights their first loss of the season. After a scoreless 1st period, the Knights got on the board first with a goal early in the 2nd period from Jack Olmstead on a penalty shot, which was his 3rd goal of the season. The Mudbugs then stormed back late in the period with a pair of goals from Jordan Fader and Cole Quisenberry to take a 2-1 lead, which would stand the remainder of the game. Gustavs Grigals made 21 saves in the Mudbugs win, while David Tomeo took the loss for the Knights, making 26 saves. Boxscore
Minot 4 vs. Coulee Region 3 (OT) – The Minot Minotauros erased a three-goal deficit with three goals in the 3rd period to force overtime and then take the win on a highlight-reel goal to get their first win of the season with a 4-3 overtime triumph over the Chill. For the second straight game, the Chill opened up a 3-0 lead, this time with three goals in the 2nd period from Brandon Koch, Jacob Dirks and Jesper Solomon Frisell. However, the Minotauros equalized in the 3rd period with three goals from Miroslav Mucha, David Raisanen and Alex Adams in a seven minute span. In the overtime, Colby Enns netted the game-winner with a nifty dangle and one-handed shot that beat Chill goalie Emil Zetterquist. Minot goalie Jack Robbel made 33 saves in the win, while Zetterquist made 43 saves in the OT loss. Boxscore
Janesville 3 vs. Johnstown 1 – Garrett Nieto made 14 saves to keep Janesville perfect on the young season with a 3-1 win over the Tomahawks on Day 2 of the NAHL Showcase. The Jets seized the early momentum with two goals early in the 1st period from Nathan Solis and Brenden MacLaren. Johnstown would answer with their lone goal of the game later in the period from Carter Dwyer to make the score 2-1 after one period. In the 2nd period, MacLaren would add his second goal of the game and 3rd goal of the season to secure the win. Vinnie Purpura made 31 saves in the losing effort for the Tomahawks. Boxscore
New Jersey 6 vs. Topeka 1 – The Titans jumped out to an early lead, ultimately erupting for six goals in a 6-1 win over the RoadRunners on Thursday at the Showcase. Hunter Alden scored twice and added an assist to pace the Titans. New Jersey jumped out to a 3-0 lead midway through the contest thanks to goals from Alden, Tate Singleton and Matthew Camerson. Topeka made the score 3-1 with their lone goal from Nick Granowicz late in the 2nd period. The Titans would add three more goals in the 3rd period to put the game on ice, which included tallies from Wade Novak, Oliver McDonald and Alden's second of the game. Matt Ladd picked up the win in goal making 26 saves, while Emil Gransoe made 24 saves in the loss. Boxscore
Springfield 3 vs. Bismarck 2 – Jurja Ovecka made 30 saves to lead the Jr. Blues to their second win of the Showcase as they edged the Bismarck Bobcats on Day 2, 3-2. The teams traded goals in the 1st period with Jeff Skinner scoring for Springfield and Ty Enns scoring for the Bobcats. In the 2nd period, the Jr. Blues opened up a 3-1 lead thanks to goals from Bradley Marek and Fletcher Fineman. The Bobcats answered one goal to make it 3-2 with a goal from Adam Stacho to make the score 3-2 with one minute remaining in the 2nd period. However, that would be all that Ovecka and the Jr. Blues would allow the rest of the way as they hung on for the 3-2 win. Bismarck goalie Ryan Ullan made 31 saves in the losing effort. Boxscore
Philadelphia 2 vs. Aberdeen 1 (OT) – Ryan Keane made 38 saves to lead the Philadelphia Rebels to a 2-1 overtime win over the Aberdeen Wings, keeping the Rebels perfect at the NAHL Showcase with a 2-0 record. The Rebels jumped ahead 1-0 with a 1st period power play goal from Carson Moniz. The Wings answered to tie the game at 1-1 in the 2nd period thanks to the first goal of the season for Joe Strada. After a scoreless 3rd period, the game would be decided in overtime as a turnover in the neutral zone led to a 2 on 1 break for the Rebels and forward Jensen Zerban buried a shot for the game-winner. Wings goalie Daniel Pavlicko made 16 saves in the loss. Boxscore
Amarillo 6 vs. MN Wilderness 2 – On the strength of four goals in the 2nd period, the Amarillo Bulls picked up their first win of the Showcase with a convincing 6-2 win over the Wilderness. Things were close in the early going as Amarillo took an early lead on a goal from Devin Panzeca, only to see it answered by Minnesota's Blake Bride. The Bulls then scored four of the next five goals thanks to two goals from Collin Price and others from Alex Truscott and Simon Morberg. Nick Altmann scored the other goal for the Widlerness, while Jason Brancheau added a 3rd period goals for the Bulls. Brandon Bussi made 26 saves in the win for the Bulls, while Trevor Micucci took the loss for the Wilderness, making 37 saves. Boxscore
Brookings 3 vs. Lone Star 1 – Jeremy Forman made 29 saves to lead the Brookings Blizzard to their second straight win at the NAHL Showcase with a 3-1 triumph over the Lone Star Brahmas. The Blizzard never trailed as they got on the board first with a 1st period goal from Doug Larson. The Brahmas managed to tie the game late in the 2nd period thanks to a goal from veteran forward Justin Addamo. However, the 3rd period belonged to the Blizzard as Jimmy Elser scored the game winner halfway through the final frame and then added an empty-net goal to secure the win. Benjamin Beck took the loss in goal for Lone Star, making 23 saves. Boxscore
Odessa 5 vs. Kenai River 2 – The Jackalopes picked up their first win of the season as they scored early and often and held of a Brown Bears rally to win 5-2 on Day 2 of the Showcase. The Jackalopes took control from the opening face-off, scoring three goals in the 1st period with goals from Evan Somoza, Evan Rochowiak and Zac Herrmann. The lead swelled to 5-0 with two more Jacks goals in the 2nd period including Somoza's second of the game and another from Peyton Frantti. In the 3rd period, the Brown Bears didn't quit and got two goals from Luke Radetic and Michael Spethmann, but it would not be enough. Max Decoursey picked up the win in goal, making 26 saves, while Gavin Enright allowed three goals on 19 shots in the loss, with Artur Pavliukov also seeing some time for Kenai River, making 29 saves on 31 shots. Boxscore