Watch Now: Robertson Cup Rewind
May 17, 2013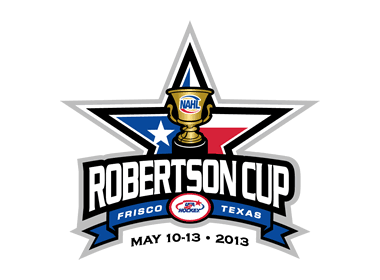 All season long, NAHL.com has shared with you the Plays of the Week, a weekly look at some of the best goals, saves and plays over the course of the 2012-13 season.
Now, the NAHL is excited to announce its newest and most recent video, the Robertson Cup Rewind. This video takes a look back at all of the goals scored in the 2013 NAHL Robertson Cup National Championship Tournament, as the Amarillo Bulls were crowned the 2013 Robertson Cup National Champions.
From Joe Giordano's first goal for Bismarck in the opening game to Amarillo's Omar Mullan scoring the final goal in the championship game, you can relive all 37 goals that were scored in the tournament and the calls that made them memorable.
Remember the drama that was the opening day when Bismarck's Stanislav Dzakhov scored with just over a minute remaining in the game to give Bismarck a 3-2 win over Wenatchee? Or, how about Matt Sieckhaus and his overtime-winning goal over the Jamestown Ironmen?
Robertson Cup Rewind is an exclusive feature on the NAHL TV platform, which features all official league videos and highlights.
Click here to watch the Robertson Cup Rewind