NAHL announces Combat Hockey 3 stars of the week
March 12, 2012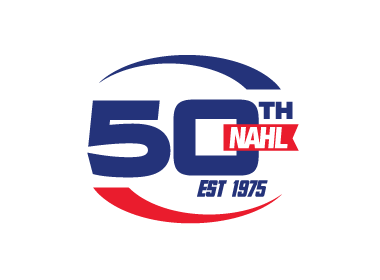 The North American Hockey League (NAHL) today announced the Three Stars of the Week presented by Combat Hockey for the week ending March 11, 2012. The Three Stars of the Week is a weekly feature during the 2011-12 regular season that honors the top performing players each week of the regular season as nominated by their respective teams.
1st Star: Hunter Leisner, goaltender, Texas Tornado
Texas picked up a big weekend sweep in Amarillo against the 1st place Bulls thanks in large part to the play of Tornado goaltender Hunter Leisner. Leisner, 19, managed to pick up two wins allowing just a single goal in two games, while stopping a combined 69 of 70 shots over the weekend. The Garland, Texas native numbers were good for a .50 goals against average and a 98.6% save percentage. On Friday, he made 36 saves in a 5-1 win over the Bulls and on Saturday stopped all33 shots on route to his fifth shutout of the season and third in a Tornado uniform. "We made the trade for Hunter knowing he is capable of being that #1 guy that can help us be successful," said Tornado head coach Tony Curtale. "Knowing he was from the Dallas area, we had followed him for a while and feel like he can be good enough to win us games when he needs to, which is something he played a part in this weekend."
2nd Star: Robert Nichols, goaltender, Wenatchee Wild
Wenatchee goaltender Robert Nichols, 19, keeps showing up on the 3 stars of the week awards list… and for good reason. This past weekend, the Dallas, Texas native was perfect in goal as his march towards the NAHL record books continues. In two road games against the Dawson Creek Rage, Nichols picked up two more shutouts, stopping 33 shots in the two games. His current total of nine shutouts in one season set a new Wenatchee Wild single-season record. On Thursday, Nichols had to make just 16 saves in a 3-0 shutout win over the Rage and on Saturday he stopped all 17 shots in a 4-0 win. Nichols current goals against average of 1.47 has him on the brink of NAHL history. The current record of lowest goals against average in a single season (1.63) was set by former Bozeman IceDogs goaltender, Matt Dalton, who currently plays professionally in the KHL in Russia. "It has fun to be a part of and watch," said Wild head coach John Becanic. "I think what is more impressive is that our opponents know about Robert's abilities and stats going into the games, and he still continues to elevate his game, win and improve his numbers."
3rd Star: Nathan Harris, defenseman, Traverse City North Stars
Traverse City North Stars defenseman Nathan Harris, 19, played a big role in helping his team clinch a playoff berth this past week. The defenseman from Fowlerville, Michigan recorded five points in four road games this past week as Traverse City posted a 2-2 record to remain solidly in 3rd place in the North Division. On Wednesday, Harris picked up an assist in a 4-0 shutout win over the Michigan Warriors. After being held scoreless on Friday, Harris picked up a power play goal on Saturday in a 4-2 win in Jamestown against the Ironmen. Despite a 4-3 loss on Sunday in Jamestown, Harris had a tremendous game, factoring in on all three goals in the loss, which included a goal and two helpers. "I thought Nathan was solid all weekend," said North Stars head coach Chad Fournier. "He plays smart at both ends of the ice and really can create offense from the blueline."
Honorable Mention (alphabetical): Charlie Adams, forward, Austin Bruins – Daniel Cesarz, forward, Kalamazoo Jr. K-Wings – Ryan Doucet, forward, Odessa Jackalopes – Bodhi Engum, goaltender, Alaska Avalanche – Kyle Gattelaro, forward, Kalamazoo Jr. K-Wings – Alec Hajdukovich, forward, Fairbanks Ice Dogs – Evan Hesse, forward, Alaska Avalanche – AJ Jarosz, forward, Corpus Christi IceRays – Brock Kautz, goaltender, Janesville Jets – Chris Kerr, forward, Wenatchee Wild – Nicholas Lehr, goaltender, Austin Bruins – Tayler Munson, forward, Fairbanks Ice Dogs – Alex Ostrowski, forward, Odessa Jackalopes – Michal Pastor, defenseman, Topeka RoadRunners – Cal Peterson, goaltender, Topeka RoadRunners - Jack Prince, forward, Texas Tornado – Pijus Rulevicius, forward, Janesville Jets – Brandon Smith, forward, Corpus Christi IceRays – Jared Van Wormer, forward, Traverse City North Stars.