Last-second OT goal by Mudbugs forces Game 5
April 30, 2023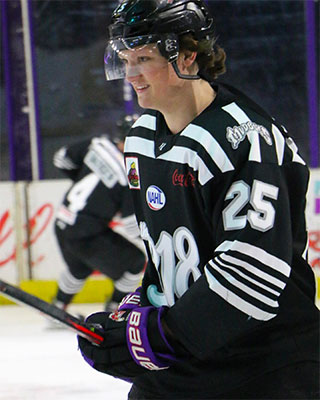 South Division Semi-Finals, Game 4: Lone Star 2 @ Shreveport 3 (OT) (Series tied, 2-2) – Drake Morse had two goals, including the overtime-winner, as the Mudbugs staved off elimination in Game 4 thanks to a 3-2 overtime win on Saturday. The win sets up a winner-take-all Game 5 on Monday night.
For the fourth consecutive time in the series, the 1st period would go scoreless. The Mudbugs were first on the board in the second period as Jaden Goldie first home a shot from the point through a screen for a power play goal and a 1-0 lead. The Brahmas would tie the game at 1-1 later in the period as a face-off win got the puck back to the point where Jakub Karpa would fire a shot through traffic for the goal. Before the period was over, the Mudbugs regained the lead as Morse calmly tucked home a nice pass from Goldie on a 2-on-2 shorthanded break to make it 2-1.
The Brahmas tied the game midway through the 3rd period as they converted on a power play as a scrum in the corner got the puck to a streaking Karpa, who buried a wide open chance in the slot to knot the game at 2-2.
With just three seconds remaining in the overtime, a face-off win got the puck to the point for Morse, who blasted home the game-winner with just :01 second remaining in overtime for the game-winner.
The series now shifts back to North Richland Hills for a Game 5 on Monday, May 1st. Mudbugs goalie Nikola Goich made 27 saves in the win, while William Gramme made 31 saves in the loss for the Brahmas.