Magicians forward Kanta makes NCAA DI commitment
March 31, 2022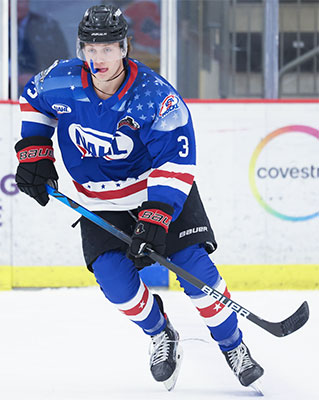 The Minnesota Magicians of the North American Hockey League (NAHL) are pleased to announce that Top Prospects forward Lucas Kanta has committed to play NCAA Division I hockey for Army-West Point in Atlantic Hockey.
Kanta, 20, is in his third and final season playing junior hockey in the NAHL. The 6'2/195 lbs. native of Grand Forks, ND, is having his best career season in 2021-22 as he ranks 3rd on the team in scoring with 51 points (23 goals, 28 assists) in 52 games played so far this season.
He was also selected to and played in the 2022 NAHL Top Prospects Tournament in Pittsburgh, PA, back in February. He was also named as the Midwest Division Star of the Week for the week of February 7-13, 2022.
"I'm honored and excited to join the West Point hockey program next season and get a top-class education. Special thanks to my family, friends, teammates, coaches who all played a large role in helping me get where I am in the game and as a person today," said Kanta.
"I'm so happy for Luke. He's earned this opportunity at West Point. He's put in a lot of work and I'm glad it has paid off for him. Luke has been a great leader on and off the ice for us this year, he's been on the top line all year and there's isn't one situation he isn't on the ice for us. Whether it's the power play, penalty kill, 3 on 5, basically every critical situation he's on the ice for us. On top of that he's a great kid and has a great college career ahead of him," said Magicians head coach Nick Bydal.
After a three-year career playing high school hockey for Grand Forks Central High in North Dakota, Kanta joined the Magicians for his rookie campaign in 2019-20 where he made the Midwest Division All-Rookie Team with 32 points in 53 games played.
Last season, Kanta put up 15 points in 47 games played. Overall, in his three-year NAHL career he has recorded 98 points in 152 regular season games.
Click here for an updated NAHL to NCAA commitment list