February 4, 2022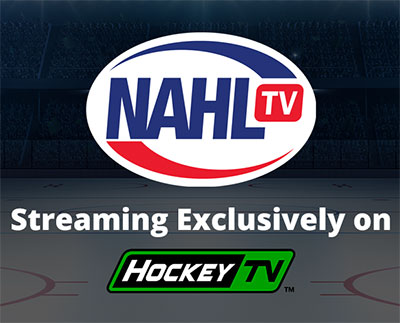 24 games on the NAHL schedule on Friday and Saturday for the first full weekend in February as the NAHL trading deadline looms on Sunday night.
The NAHL has had a great run of NCAA commitments in recent weeks, including seven more this past week, bringing the current season total to 174 NCAA commitments.
The 2022 NAHL Top Prospects Tournament is just days away and will take place from February 7-8 at the UPMC Lemieux Sports Complex in Cranberry Township, Pennsylvania. The UPMC Lemieux Sports Complex is the practice home to the NHL's Pittsburgh Penguins.
In the Central, the resurgent St. Cloud Norsemen put their six-game winning streak on the line as they host Bismarck for two games. The Minot Minotauros look to snap a five-game slide as they host Aberdeen for two games. The 1st place Austin Bruins are in North Iowa as the Bulls look to hold onto a playoff spot.
In the East, the red-hot and 3rd place Northeast Generals put their four-game winning streak on the line as they travel to face 1st place New Jersey. Johnstown looks to stay in playoff position as they are in Danbury for a pair of afternoon games. The final series has Jamestown looking to get back into the playoff picture as they travel to Maryland to face the 2nd place Black Bears.
In the Midwest, there is a big battle for 1st place as Springfield hosts Fairbanks with the Jr. Blues just a point behind the Ice Dogs for the top spot. The other series has Chippewa hosting Kenai River with both clubs needing wins to get back into the playoff position.
In the South, Corpus Christi puts their four-game winning streak on the line in Odessa. The Lone Star Brahmas look to build off their momentum from Thursday night's come-from-behind shootout win in Odessa as they travel West to face the El Paso Rhinos, who have lost four in a row. Wichita Falls is in Amarillo as the two teams battle for the fourth and final playoff spot. The final series as 1st place New Mexico in Shreveport to take on the surging Mudbugs
Watch all the action on HockeyTV
Download the all new NAHL App today! (iOS - Google Play)
FRI, FEBRUARY 4
Johnstown at Danbury - 3:00 PM EST
Jamestown at Maryland - 7:30 PM EST
Northeast at New Jersey - 7:30 PM EST
Kenai River at Chippewa - 7:00 PM CST
Bismarck at St. Cloud - 7:00 PM CST
Wichita Falls at Amarillo - 7:05 PM CST
Fairbanks at Springfield - 7:05 PM CST
New Mexico at Shreveport - 7:11 PM CST
Corpus Christi at Odessa - 7:15 PM CST
Austin at North Iowa - 7:30 PM CST
Lone Star at El Paso - 7:00 PM MST
Aberdeen at Minot - 8:05 PM CST
SAT, FEBRUARY 5
Johnstown at Danbury - 3:00 PM EST
Jamestown at Maryland - 7:00 PM EST
Northeast at New Jersey - 7:00 PM EST
Fairbanks at Springfield - 6:05 PM CST
North Iowa at Austin - 7:00 PM CST
Kenai River at Chippewa - 7:00 PM CST
Bismarck at St. Cloud - 7:00 PM CST
Wichita Falls at Amarillo - 7:05 PM CST
New Mexico at Shreveport - 7:11 PM CST
Corpus Christi at Odessa - 7:15 PM CST
Aberdeen at Minot - 8:05 PM CST
Lone Star at El Paso - 7:00 PM MST