Jets, Brahmas, Minotauros win on Thursday
December 31, 2021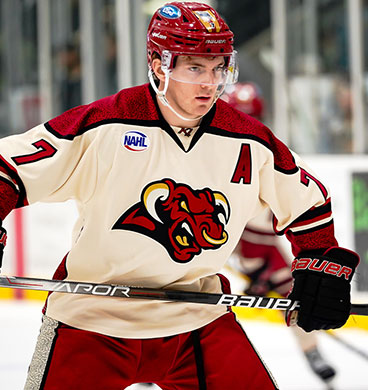 Anchorage 0 @ Janesville 4 – Jets goalie Owen Millward made a season-high 33 saves to lead the Jets to a 4-0 shutout win over the Wolverines. Janesville jumped out to a 2-0 lead in the 1st period with goals from Ethan Begg and the first of the season from Parker Mabbett. After a scoreless 2nd period, the Jets secured the win with two more goals in the 3rd period, including one from Cy LeClerc and another from Begg. Anchorage goalie Raythan Robbins made 18 saves in the loss.
Lone Star 3 @ Corpus Christi 0 – Brahmas goalie Austin Schwab stopped all 18 shots that came his way for his first career NAHL shutout as the Brahmas blanked the IceRays, 3-0. The Brahmas opened the scoring in the 1st period with a goal from Artur Turansky. The Brahmas then put the game away in the 2nd period with two more goals from Nicholas Niemo and Dylan Smith. IceRays goalie Damon Beaver made 35 saves in the loss.
Bismarck 1 @ Minot 6 – Six differet players scored for the Minotauros and goalie Carter Clafton made 24 saves to lead Minot to a 6-1 win over the Bobcats. The Bobcats scored less than a minute into the game on a goal from Nico Chmelevsi. However after that, it was all Minotauros. Minot would score three goals in the 1st period to take a 3-1 lead on goals from Colby Joseph, Cole Mickel, and Dean Schwenninger. Braden Panzer added a 2nd period goal and Huston Karpman and Kade Nielsen would add 3rd period goals. Oskar Spinnars Nordin made 25 saves in the loss.