Wichita Falls forward Vieten makes NCAA DI commitment
March 29, 2021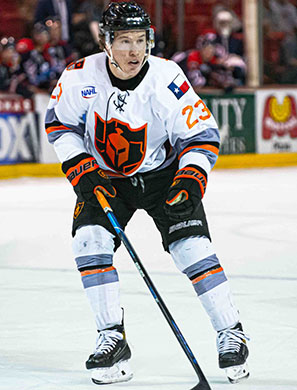 The Wichita Falls Warriors of the North American Hockey League (NAHL) are pleased to announce that forward Drew Vieten has committed to play NCAA Division I hockey for Niagara University to further his hockey and academic career.
The 6'1/187 lbs. native of Calabasas, California native will be heading far from home up to western New York to begin his college career, but Vieten was won over by the culture that the program has built at Niagara. "I was drawn to the program because of the way they take care for their players and culture they have set. I can't wait to get my time started there and accomplish my dream of playing college hockey," said Vieten.
This season with the Warriors, Vieten has recorded a total of 29 points on 13 goals and 16 assists in 32 games played. The Warriors forward has been an impact player in the offensive zone, especially on the power play, leading the Warriors with six goals on the man advantage.
"My experience in Wichita Falls with the Warriors has giving me the opportunity to take that next step in my game from my first year of juniors and show that I'm ready for the Division 1 level. I can't thank the coaches and Owner here enough for giving me that opportunity," said Vieten. "After speaking to the whole coaching staff at Niagara, I knew it was a program that I wanted to be a part of and further my development as a person and hockey player."
Vieten joins seven other Warriors who have already made their commitments.
Warriors Head Coach Garrett Roth has had his eyes set on Drew Vieten's talent well before the start of the team's inaugural season.
"Drew has been a player over the last two years that has been actively recruited by our staff," said Roth. "We understood that getting him onboard was a key component in building our roster for our inaugural season. His detailed play and accountability along with his offensive production has been a huge part of our success. We are extremely excited for him and his family for earning this opportunity. He has been a big part of building our foundation and that experience will attribute to his success at Niagara."
Second on the team in points recorded, Vieten has been driving force on the offensive end that has helped the Warriors win games. Now the Warriors coaching staff and organization look forward to his future at Niagara.
Click here for an updated NAHL to NCAA commitment list