Wilderness win home opener in a shootout on Sunday
January 18, 2021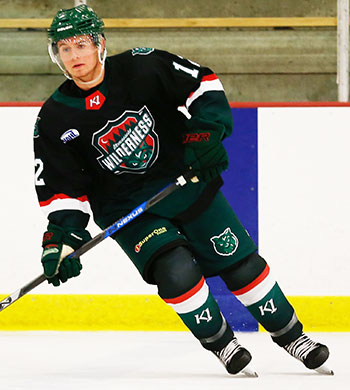 Austin 3 @ MN Wilderness 4 (SO) – The Minnesota Wilderness built an early lead and held off a furious Bruins comeback to pick up a 4-3 shootout win in their home opener on Sunday night.
It appeared as if the Wilderness were well on their way to a win thanks to three goals in the first 13:38 of the game. Gavin Rasmussen started the scoring just over four minutes into the game with a shorthanded goal. Just over five minutes later, the Wilderness made it 2-0 thanks to Mitchell Allard's 3rd goal of the season. At the 13:38 mark, newly acquired forward Josh Bohlin scored his first goal in a Wilderness uniform to make it a 3-0 game. At that point of the game, the Bruins lifted started goaltender Tyler Shea in favor of Hudson Hodges. The Bruins were able to answer towards the end of the period as Alex Trombley scored his first goal of the season to make it 3-1 after the 1st period.
The Bruins took over in the 2nd period and scored two goals to tie the game at 3-3. At the 7:47 mark, Walter Zacher scored a power play goal to make it 3-2. With just over a minute left in the period, Barrett Brooks added his 4th goal of the season to knot the game at 3-3.
The Wilderness outshot the Bruins in the 3rd period and through overtime, but neither team was able to find the back of the net.
In the shootout, Rasmussen was the lone shooter of the combined five to find the back of the net and give the Wilderness the 4-3 win.
Wilderness goalie Kaleb Johnson made 26 saves in the win and stopped all three Bruins players in the shootout. Shea made six saves in the loss. Hodges stopped all 19 shots he faced through regulation and OT.