December 27, 2019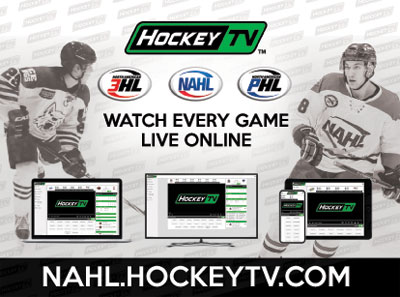 This week is a light schedule for NAHL teams with just eight games on Friday and Saturday and a few more sprinkled in before the New Year.
This weekend features just eight games on Friday and Saturday, but the match-ups are all within the divisions and very intriguing.
There are also five games on New Year's Eve as teams close out 2019.
In the Central Division, the in-state rivalry between the Bismarck Bobcats and Minot Minotauros continues this weekend with a home-and-home series. Both teams are looking up at the Aberdeen Wings, who along with the St. Cloud Blizzard, are both idle this weekend. The other match-up has the Austin Bruins in Cloquet to face the Wilderness. The Wilderness are four points behind the Bruins for the 4th and final playoff spot.
The East Division has the weekend off. The Maine Nordiques will be in Johnstown to take on the Tomahawks on Monday and Tuesday night.
The Midwest Division has just one series this weekend as the Minnesota Magicians are in Chippewa to face the Steel. The Magicians are four points out of the 4th and final playoff spot, while the Steel are solidly in 3rd place and have two straight wins.
In the South Division, there is just one series, but it will be a good one as the 3rd place Topeka Pilots visit and 4th place Shreveport Mudbugs. One point separates the two teams in the standings.
FRI, DECEMBER 27
Austin at MN Wilderness - 7:05 PM CST
MN Magicians at Chippewa - 7:10 PM CST
Topeka at Shreveport - 7:11 PM CST
Minot at Bismarck - 7:15 PM CST
SAT, DECEMBER 28
Austin at MN Wilderness - 7:05 PM CST
MN Magicians at Chippewa - 7:10 PM CST
Topeka at Shreveport - 7:11 PM CST
Bismarck at Minot - 7:35 PM CST
MON, DECEMBER 30
Maine at Johnstown - 7:00 PM EST
TUE, DECEMBER 31
Maine at Johnstown - 6:00 PM EST
St. Cloud at MN Wilderness - 5:05 PM CST
Shreveport at Corpus Christi - 5:35 PM CST
New Mexico at Amarillo - 7:05 PM CST
Minot at Bismarck - 7:15 PM CST