Tomahawks blank Rebels on Wednesday, 2-0
December 19, 2019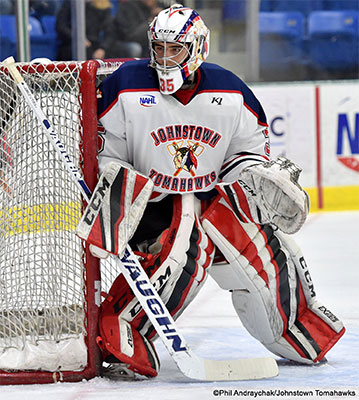 Jamestown 0 @ Johnstown 2 - The Johnstown Tomahawks shut out the Jamestown Rebels 2-0 on Wednesday night at 1st Summit Arena in Johnstown, PA.
There was no scoring in the 1st period, but there was plenty of action. Both goalies made several important stops, including a highlight-reel stick save by Rebels goalie, Noah West.
The beginning of the 2nd period was much like the 1st, with numerous quality saves by the goalies. West continued his strong play, this time stopping Carson Grainer on a shorthanded breakaway. But the Tomahawks, who controlled momentum through most of the period, finally broke the ice. Max Kouznetsov kept his hot streak going, scoring his 11th of the year to put Johnstown up 1-0.
The Tomahawks stood tall defensively during the 3rd period, and Alex Tracy stopped the late Jamestown onslaught. Kouznetsov then scored an empty net goal, his second of the night and 12th of the season, to secure the 2-0 victory.
Tracy stopped all 23 shots that came his way for his second shutout of the year, while West made 31 saves in the loss.