October 4, 2019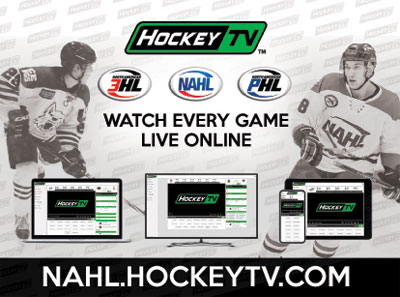 25 games are on the schedule this weekend in the NAHL as the month of October begins with an exciting week in the books for the league.
This past week saw more NCAA Division 1 commitments in addition to 40+ NAHL alumni beginning the 2019-20 season on NAHL Opening Night rosters.
In the Central Division this weekend, the 1st place Minot Minotauros will be on the road to take on the Minnesota Wilderness. The Wilderness have dropped two straight, while Minot has yet to lose a game in regulation. The 2nd place Bismarck Bobcats, who have won three in a row, will host the St. Cloud Blizzard in a pair of games as the Blizzard look to snap a three-game slide. The final series features the Aberdeen Wings at the Austin Bruins with the two clubs separated by just a point in the standings.
In the East, all eyes are in Lewiston, Maine, as the Maine Nordiques make their inaugural NAHL debut at home by hosting the Johnstown Tomahawks with both teams sitting at the .500 mark. The Northeast Generals, who have won two in a row, will host the 1st place New Jersey Titans for a pair of games. The final series as the Wilkes-Barre/Scranton Knights on the road and looking to snap a four-game skid as they travel to Jamestown for the Rebels home opening series.
In the Midwest, the 1st place Kenai River Brown Bears, who are one of just four NAHL teams without a regulation loss, finish out their long road swing with a series in Chippewa against the 2nd place Steel. The Minnesota Magicians will look to snap a four-game losing streak as they host the Fairbanks Ice Dogs for two games. The Springfield Jr. Blues will again play outside of the division as they host the Shreveport Mudbugs from the South Division. The Janesville Jets are idle.
In the South Division, the 6-0 Lone Star Brahmas will look to continue their perfect start as they host the New Mexico Ice Wolves, who are still looking for their first win. The Odessa Jackalopes, who also have yet to lose in regulation, will host the Corpus Christi IceRays for three games. The final series has the Amarillo Bulls at the Topeka Pilots for two more games after Topeka won on Thursday, 2-1 in the first game of the three game series. Shreveport will go outside of the division with two games in Springfield.
FRI, OCTOBER 4
Johnstown at Maine - 7:00 PM EST
Wilkes-Barre/Scranton at Jamestown - 7:05 PM EST
New Jersey at Northeast - 7:30 PM EST
Aberdeen at Austin - 7:05 PM CST
Minot at MN Wilderness - 7:05 PM CST
Shreveport at Springfield - 7:05 PM CST
Amarillo at Topeka - 7:05 PM CST
Kenai River at Chippewa - 7:10 PM CST
St. Cloud at Bismarck - 7:15 PM CST
Fairbanks at MN Magicians - 7:15 PM CST
Corpus Christi at Odessa - 7:15 PM CST
New Mexico at Lone Star - 7:30 PM CST
SAT, OCTOBER 5
Johnstown at Maine - 7:00 PM EST
Wilkes-Barre/Scranton at Jamestown - 7:05 PM EST
Shreveport at Springfield - 6:05 PM CST
New Jersey at Northeast - 7:30 PM EST
Aberdeen at Austin - 7:05 PM CST
Fairbanks at MN Magicians - 7:05 PM CST
Minot at MN Wilderness - 7:05 PM CST
Amarillo at Topeka - 7:05 PM CST
Kenai River at Chippewa - 7:10 PM CST
St. Cloud at Bismarck - 7:15 PM CST
Corpus Christi at Odessa - 7:15 PM CST
New Mexico at Lone Star - 7:30 PM CST
SUN, OCTOBER 6
Corpus Christi at Odessa - 5:00 PM CST