Blizzard's Williams named Goalie of the Month
April 5, 2011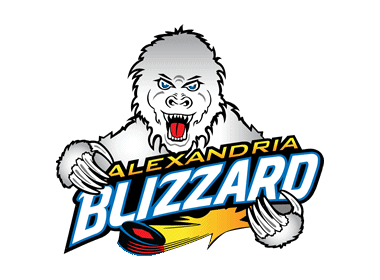 The North American Hockey League (NAHL) has announced that Alexandria Blizzard goaltender Jake Williams has been named the SBK Hockey Goaltender of the Month for March.

Williams, a 20-year-old from Montreal, fashioned a 10-0-1 mark, including a pair of shutout performances, in 12 appearances over the month to compliment a 2.23 goals-against average and a .914 save percentage.

Thanks to his efforts in March, Williams, who competed in the NAHL's second Top Prospects Tournament of the season in Ann Arbor, Mich., in February, helped propel the Blizzard to the Central Division's regular-season title.

"Jake's solid goaltending was one of the main reasons for our success down the stretch," said Blizzard assistant coach Jeff Crouse. "He gained his confidence at Top Prospects and that carried over to his play with us."

"It's an honor to win, especially with all the great goalies in the league, but it was really a team effort," said Williams. "My teammates made it very easy on me, both offensively and defensively, and they'd always seem to come through with a big goal when we needed it."

For the regular season, Williams, who was acquired in a trade from the Fresno Monsters in October, put together a 25-10-5 overall record to go along with a 2.94 goals-against average and a .897 save percentage.

"He's a big, aggressive goalie who keeps it simple and really works hard," Crouse added. "He has the experience you need in the playoffs and we're look forwarding to watching his success continue in the postseason."

"My experience in Alexandria has been very positive," Williams added. "The team has adopted a defense-first mentality and that's helped us a ton down the stretch."

HONORABLE MENTION: Alaska's Landon Peterson; Michigan's Robert Tadazak; St. Louis' Tom Comunale; Texas' Jimmy Kruger; Traverse City's Steven Bolton; Wenatchee's Brandon Jaeger

2010-11 WINNERS: September/October: Jimmy Kruger (Texas Tornado); November: Pheonix Copley (Corpus Christi IceRays); December: Ryan Faragher (Bismarck Bobcats); January: David Jacobson (Janesville Jets); February: Robert Tadazak (Michigan Warriors)

About SBK Hockey…
The Official Equipment Supplier and Preferred Goaltender Supplier of the NAHL, SBK Hockey offers a complete line of composite hockey sticks and protective equipment, including protective goaltender equipment. For more information on SBK Hockey, visit SBKHockey.com.