Mudbugs advance to title game, while Minot forces Game 3
May 12, 2018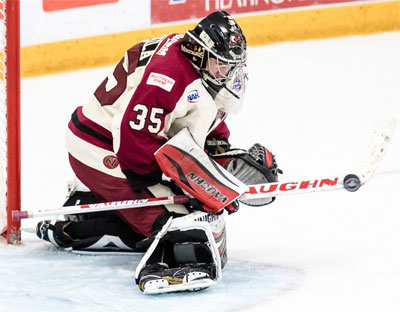 Robertson Cup Semi-Final, Game 2: Minot 2 vs. Fairbanks 0 (Series tied 1-1)
– Minot Minotauros goaltender Samu Lonkila stopped all 30 shots that came his way for his third shutout of the 2018 NAHL Robertson Cup Playoffs as he backstopped his club to a 2-0 win in Game 2 of the Robertson Cup Semi-Finals against the Fairbanks Ice Dogs. It was a must-win game for Minot and they played like it throughout the contest. Both Lonkila and Fairbanks goalie Josh Benson were solid for their clubs through the opening two periods, which didn't feature any scoring, but had plenty of chances for both teams. Minot thought they had broken through early in the 3rd period, but the officials on the ice ruled that a puck was kicked in. However, just seconds ticked by after the call when Minot forward Miroslav Mucha was able to maneuver with the puck in the Ice Dogs zone and weave around the defense, ultimately putting a backhand laser past Benson for a 1-0 Minotauros lead. Lonkila held the fort the rest of the game for the Minotauros and an unassisted empty-net goal from Alex Adams secured the 2-0 win. With the Game 2 win, Minot forced a 3rd and deciding Game 3 of the Semi-Final series, which will take place on Sunday, May 13th at 3:00pm.
Boxscore
Robertson Cup Semi-Final, Game 2: Shreveport 2 vs. Wilkes-Barre/Scranton 1 (Shreveport wins series, 2-0)
– The Shreveport Mudbugs punched their ticket to the Robertson Cup National Championship Game as they came from behind in the 3rd period to defeat the Wilkes-Barre/Scranton Knights, 2-1 in Game 2 of their Semi-Final Series. Like Game 1, goaltending was once again the story as Mudbugs goalie Jaxon Castor and Knights goalie Christian Stoever put on a show early in the game to keep things scoreless. Some fearless Knights determination netted them the first goal of the game and first goal of the Championship for the squad as Lincoln Hatten picked up a loose rebound after an initial save by a sprawled out Castor to put the Knights head 1-0 in the 2nd period. In the 3rd period, the Mudbugs came out with furious aggression and determined to tie the game. They did just that as a turnover by the Knights at their own blueline led Jordan Fader to backhand a shot, which was saved by Stoever, but the rebound was potted home by Ryan Burnett to tie the game at 1-1. Just over two minutes later in the 3rd period, the Mudbugs got the eventual game-winner as Gueorgui Feduolov cleaned up a rebound with help from Fader and Dominick Procopio to give Shreveport their first lead of the night at 2-1. Castor would make the lead stand up with 20 saves in the win, while Stoever made 33 saves in the loss as the Knights season came to an end.
Boxscore