Saturday Scores: Wings punch playoff ticket with sweep
March 11, 2018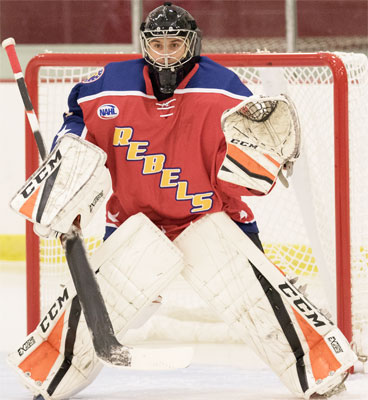 Bismarck 1 @ Aberdeen 4 - The Aberdeen Wings won in convincing fashion on Saturday night as they took down the Bismarck Bobcats 4-1, and in the process, clinched the Central Division's first playoff spot. Joe Strada and Nic Sicoly each found the back of the net and handed out an assist as well. Christopher Mammas scored his first goal of the year and Colton Fletcher also scored. Matt Vernon stopped 19 of 20 shots fired his way. Mitchell Walinski was able to break the shutout for Vernon, meanwhile John Roberts made 41 saves.
Lone Star 4 @ Odessa 3 - Steven Ipri scored the only goal of the third period and it proved to be the game winner as the Lone Star Brahmas finished off their sweep of the Odessa Jackalopes. Aidan Spellacy netted a pair of goals and Ture Linden had a goal and an assist. Mitchell Gibson continued his winning ways as he turned aside 26 Odessa shots. Viktor Johansson had a pair of points, Nick Wilson and Eric Huss also scored for the Jacks. Brett Epp stopped 12 shots in the loss.
Wilkes/Barre-Scranton 0 @ Philadelphia 3 - On one of the biggest stages in all of hockey, the Philadelphia Rebels notched their second straight shutout as they blanked the Wilkes-Barre/Scranton Knights at the Wells Fargo Center in Philadelphia. Brandon Stanley, Carson Moniz and Nicolas Appendino all found the back of the net while Ryan Keane pitched his second shutout in as many nights.
Topeka 1 @ Shreveport 4 - The Shreveport Mudbugs took care of business at home as they defeated Topeka 4-1. Jonatan Asplund led all skaters with three assists, Brendan Gysbers had a goal and an assist for Shreveport while Jay Feiwell, Jake Transit and Ryan Burnett also scored. Jaxon Castor had an easy night, only needing to make 12 saves to pick up the win. Matt Barnes scored the lone goal for Topeka and Sam Metcalf made 29 saves.
MN Wilderness 2 @ Minot 3 - Alex Adams scored with just 4.9 seconds left on the clock to give the Minot Minotauros a dramatic come-from-behind victory. Michael Talbot scored with 1:45 left in the third period to tie the game at two. Keenan Lund also scored for the Minotauros in the victory. Nick Grabko stopped 26 of 28 to earn the win. Alex Truscott and Josh Fricks netted goals for the Wilderness while Jacob Sibell stopped 36 shots.
Janesville 5 @ Kenai River 1 - Jakov Novak was unstoppable once again as he scored his league leading 30th and 31st goals of the season in the Jets 5-1 win over Kenai River. Tanner Polglaze scored a goal and had two assists, Sam Renlund had a goal and an assist as well. Jordan Steinmetz also found the back of the net for Janesville. Daniel Lebedeff stopped 32 shots to pick up his 15th win of the year. Emils Ezitis scored the lone goal for Kenai River and Kevin Lake made 39 saves.
Johnstown 3 @ New Jersey 2 (OT) - Roman Kraemer's goal 1:47 into overtime propelled his Johnstown Tomahawks to a 3-2 overtime victory over the New Jersey Titans. Kraemer also had an assist on Samuel Solensky's goal. Andy Nedeljkovic also scored for the Tomahawks. Jack Leavy picked up the win in between the pipes as he made 31 saves. Gavin Gulash and Matthew Cameron scored for New Jersey in the loss. Brandon Perrone stopped 27 shots.
Corpus Christi 4 @ Amarillo 1 - Jayson Dimizio's two goals led the Corpus Christi IceRays to a 4-1 victory over the Amarillo Bulls as they solidified their playoff chances. Brendan Miller scored a goal and had an assist, Larry Jungwirth also lit the lamp in the win. Chad Veltri was spectacular as he made 37 saves. Jared Domin scored the only goal for Amarillo while Jason Grande stopped 22 of 25 shots.
Brookings 5 @ Austin 4 (OT) - The Austin Bruins mounted a furious comeback but it was Josh Boyer who would have the last laugh as his second goal of the game lifted his Brookings Blizzard to a 5-4 win. Max Sasson, Jimmy Elser and Ben Perkins all scored goals in the victory. Adam Brizgala denied 38 Austin shots en route to his sixth win of the season. Dante Zapata had a goal and an assist, Travis Kothenbeutel, Andy Willis and Alex Mella all scored as well in the win. Dante Sheriff notched three assists. Alex Schilling made 20 saves in the loss.
Springfield 1 @ Fairbanks 6 - After suffering their first regulation loss in 33 games, the Fairbanks Ice Dogs responded. They dominated Springfield on Saturday night and picked up a 6-1 victory. Luke Orysiuk led all Ice Dogs with four points, one goal and three assists. Kyle Mayhew potted a pair of goals while Hunter Wendt had a goal and an assist. Robert Blueger and Noah Wilson also scored for Fairbanks. Logan Neaton got the win in the blue paint as he made 16 saves. Max Brainin scored for the Jr. Blues.