2018 NAHL Top Prospects Tournament less than a week away
February 21, 2018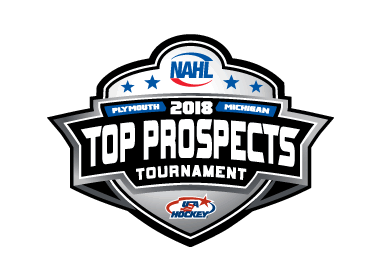 The North American Hockey League (NAHL) 2018 NAHL Top Prospects Tournament is less than one week away and will be held from February 27-28, 2018 at the USA Hockey Arena in Plymouth, Michigan.
120 total players from the NAHL will be spread amongst six teams, who will play in two games each during the event. The event will feature teams that represent the four divisions in the NAHL: Central, East, Midwest and South, along with two NAHL Selects teams.
For more information on the 2018 NAHL Top Prospects Tournament, including rosters, tickets, and hotel information, please visit:
http://nahl.com/tpt/
SCOUT PASSES ON SALE
: Scout passes will be available for $60 for the entire event or $35 a day and are on sale now. The packet includes a pass for entrance into the USA Hockey Arena for all the days of the event, access to the scout room, which will include food and beverage throughout the event, a tournament program, line charts for each game and all pertinent team and player information. Scout passes can be purchased
online here
, or contact Shannon Smith in the NAHL office at 972-464-1382 or at
ssmith@nahl.com
The NAHL Top Prospects Tournament is one of the most highly-scouted events in junior hockey. Last season, over 230 scouts attended the event, which featured almost every NHL team and NCAA Division I school. It continues to be an important part of the NAHL event model, which includes the NAHL Showcase in September and the NAHL Robertson Cup National Championship in May.
One of the things the NAHL does better than any other junior league is seeing their players earn an NCAA opportunity while playing and being showcased in the NAHL. To date, 162 players have already made NCAA Division I commitments during the 2017-18 season.
The NAHL Top Prospects Tournament plays a big role in that success, with over half of the players who played in last year's Top Prospects Tournament, earning an NCAA Division I opportunity following their participation in the event. The event continues to provide the hundreds of NHL and NCAA scouts in attendance with a look at the best uncommitted players the NAHL has to offer, as well as, some potential NHL Draft picks.
2018 NAHL Top Prospects Tournament Schedule (subject to change, all times eastern)
Tuesday, February 27th
1:00pm: Midwest Division vs. NAHL Selects Red
4:00pm: South Division vs. East Division
7:00pm: Central Division vs. NAHL Selects White
Wednesday, February 28th
11:00am: NAHL Selects Red vs. South Division
2:00pm: Central Division vs. Midwest Division
5:00pm: NAHL Selects White vs. East Division