New Jersey completes sweep on Sunday
February 18, 2018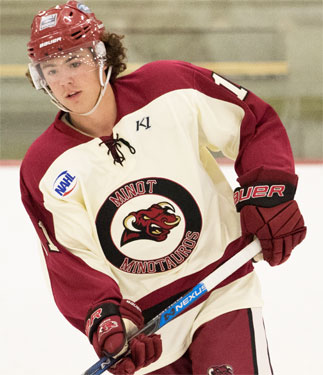 Northeast 1 @ New Jersey 3
– The New Jersey Titans completed a weekend home sweep of the Generals thanks to a 3-1 win on Sunday. The win moved the Titans to within one point of 2nd place in the East Division, right behind Wilkes-Barre/Scranton, and one point ahead of now 4th place Northeast. The Titans opened the scoring late in the 1st period as Gavin Gulash scored his 7th goal of the game. After a scoreless 2nd period, the Titans added to their lead as Nick Boyagian scored his 16th goal of the season, in what would be the eventual game-winner. The Generals got on the board later in the 3rd period on a goal from Matt Wiesner, but an empty-net goal from Spencer Stanley late in the final frame secured the win for the Titans. New Jersey goalie Brandon Perrone made 24 saves in the win, while David Fessenden made 36 saves in the loss.
Boxscore
Bismarck 3 @ Minot 4
– The Bobcats were denied the three-game weekend sweep over their in-state rival as the Minotauros rallied in the 3rd period to come-from-behind and defeat the Bobcats, 4-3, which salvaged a win on the three-game weekend for Minot. The Minotauros got off to a good start thanks to two goals in the 1st period from Fritz Belisle and Miroslav Mucha. The Bobcats were able to keep it to within a goal from the first goal of the season from Niki Jasko. In the 2nd period, the Bobcats seized control and momentum late in the period, with two goals just over a minute apart from Simon Moberg and Cooper Haar. In the 3rd period, Minot was quick to tie the game at 3-3 thanks to a goal :19 seconds in by Grant Loven. The game winner came with 6:31 remaining in regulation as Taylor Lantz scored his 3rd goal of the season. Minot goalie Jack Robbel made 18 saves in the win, while Bismarck goalie Ryan Ullan made 32 saves in the loss.
Boxscore