NAHL announces Bauer Divisional Stars of the Week
February 12, 2018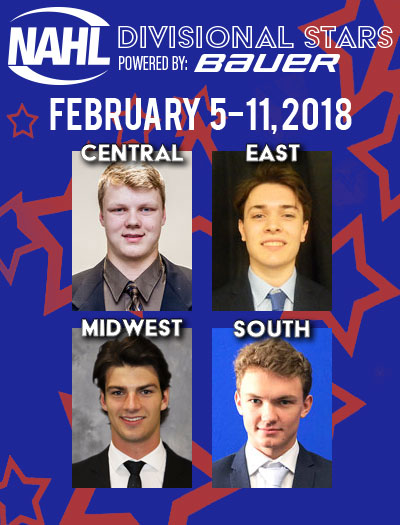 The North American Hockey League (NAHL) today announced the Divisional Stars of the Week presented by Bauer Hockey for the week ending February 11, 2018. The Bauer Hockey Divisional Stars of the Week is a weekly feature during the 2017-18 regular season that honors the top performing players in each of the four NAHL divisions. Only players that are nominated by their respective teams are considered for the Divisional Players of the Week award.
Central Division Star of the Week: Jake Sibell, goaltender, Minnesota Wilderness
Minnesota Wilderness goalie Jake Sibell, 18, has been on fire since joining the Wilderness in January. The native of Isanti, Minnesota, proved that again this weekend as the Wilderness went toe-to-toe with the visiting Janesville Jets. On Friday, Sibell (6'0/190) made 26 saves in a 2-1 shootout win over the Jets. During the shootout, he stopped all four Jets shooters to secure the extra point. On Saturday, Sibell didn't start, but came into the game after the Wilderness had done down 3-1 and stopped 14 of 15 shots the rest of the way as the Wilderness fell in a shootout, 5-4. For the weekend, Sibell stopped 40 of 42 shots. "Jake did his job this past weekend in giving our team a chance to win each night. His work ethic and passion are contagious and we couldn't be happier to have him," said Wilderness head coach Tim Madsen.
2nd Star: Samu Lonkila, G, Minot Minotauros
Honorable Mention (alphabetical): Eric Gotz, D, Minnesota Wilderness – Joe Mancuso, F, Bismarck Bobcats – Alex Mella, F, Austin Bruins – Ondrej Pavel, F, Minot Minotauros – Johnny Roberts, G, Bismarck Bobcats – Dante Sheriff, F, Austin Bruins
East Division Star of the Week: Matt Cameron, forward, New Jersey Titans
New Jersey Titans forward and RPI recruit Matt Cameron, 17, had a huge week as the Titans nabbed four points in three games this past week. The 5'11/190 lbs. native of Berwyn, Pennsylvania, recorded seven points (5 goals, 2 assists) and was a +6 in the three outings this past week. On Wednesday, Cameron had a goal in a 3-2 shootout loss against the Philadelphia Rebels. On Saturday, he struck for four goals in a 7-3 win over the Northeast Generals. On Sunday, he had a pair of assists in a 7-6 overtime loss against the Generals. "Matt has really come on as the season has progressed. Matt's ability to make lethal plays around the net is critical for our team. He has really worked hard this year on improving his overall game. We are happy that due to his persistence and ability to stick with the process he is now being rewarded for all his work. We look forward to having Matt continue to grow and develop and help led us into the playoffs," said Titans head coach Craig Doremus.
2nd Star: Matt Demelis, F, Northeast Generals
Honorable Mention (alphabetical): Mike Egan, F, Northeast Generals – Aaron Maguyon, F, Philadelphia Rebels – Luke Radetic, F, Philadelphia Rebels
Midwest Division Star of the Week: Fabio Hollenstein, forward, Springfield Jr. Blues
The Springfield Jr. Blues gave a big boost to their playoff chances as they picked up a weekend home sweep of the visiting Coulee Region Chill. Leading the way was veteran forward Fabio Hollenstein. The 21-year-old native of Fraunfeld, Switzerland, had six points (2 goals, 4 assists) in the two wins. On Friday, Hollenstein (6'3/205) had the game-winning goal in a 2-1 win and on Saturday, he exploded for a goal and four assists in a 6-3 win. In 43 games played so far this season, Hollenstein has 27 points. "Fabio has really elevated his game the past few weeks. He is very reliable away from the puck and has shown a scoring touch off late. We are going to need him down the stretch to continue his strong play," said Jr. Blues head coach Tyler Rennette.
2nd Star: Josh Benson, G, Fairbanks Ice Dogs
Honorable Mention (alphabetical): Filip Karlsson, F, Kenai River Brown Bears – Kevin Lake, G, Kenai River Brown Bears – Ethan Stewart, F, Springfield Jr. Blues – Noah Wilson, D, Fairbanks Ice Dogs
South Division Star of the Week: Roberts Baranovskis, forward, Shreveport Mudbugs
The 1st place Shreveport Mudbugs rolled along this weekend with a road sweep of the Amarillo Bulls. Forward Roberts Baranovskis, 20, led the way for the Mudbugs with five points (3 goals, 2 assists) during the two wins. On Friday, the 5'11/185 lbs. native of Jelgava, Latvia, had a goal and an assist with a 4-3 overtime win. On Saturday, he had two goals and an assist in an 8-0 shutout win. For the season, Baranovskis has 19 points in 39 games played. "Roberts has great skill and he works hard at his craft. This is his first year playing in North America and sometimes it takes time to figure out what works and what doesn't. We are proud of his development and strides he is taken. We believe he is one of our key players down the stretch," said Mudbugs head coach Karlis Zirnis.
2nd Star: Chad Veltri, G, Corpus Christi IceRays
Honorable Mention (alphabetical): Jayson Dimizio, F, Corpus Christi IceRays – Dominick Procopio, D, Shreveport Mudbugs