Bruins edge Magicians in shootout on Sunday, 4-3
January 28, 2018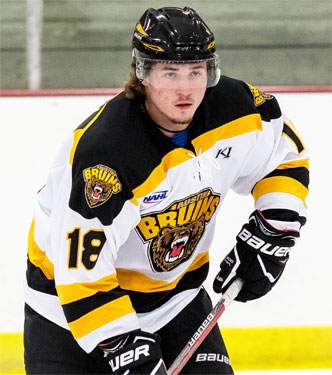 MN Magicians 3 @ Austin Bruins 4 (SO) – In the lone NAHL game on Sunday, the Austin Bruins got a multi-point effort from Evan Cholak as came from behind to defeat the Minnesota Magicians in a shootout, 4-3.
Things look good for the Magicians early as they jumped out to 2-0 lead with two first period power play goals from Carter Breitenfeldt (6) and Cameron Buhl (10).
The Bruins stormed back in the 2nd period with two goals to tie the game at 2-2 thanks to a strike from Jaden Shields (9) and Xander Lamppa (5), who scored on the power play.
The Bruins took their first lead of the game early in the 3rd period as Seth Bacon scored his first career NAHL goal. Jackson Nauss ended up tying the game later in the 3rd period for the Magicians, as he also scored his first career regular season goal and the game would then head to overtime.
After a scoreless overtime, the game would then be decided in a shootout where Dominic Skrelja would score the lone goal for the Bruins, while Austin goalie Mads Sogaard shutout the door on all three Magicians shooters for the extra point.
Sogaard made 18 saves for his second win of the weekend, while Magicians goalie Conor Kiaers made 31 saves in the shootout loss.