December 29, 2017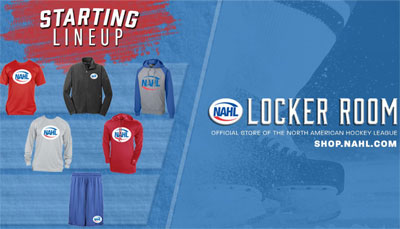 After a week layoff and break for the Christmas holiday, action in the North American Hockey League (NAHL) ramps up again this weekend as team's close out 2017.
19 games are on the slate for Friday-Sunday as December comes to a close and the calendar turns to 2018. Close to half the teams in the NAHL have already hit the halfway point of the season.
This weekend is highlighted by several out-of-division match-ups.
Shop the
NAHL shop
for the NAHL player or fan in your family!
Just four points separates 1st place from last place in the Central Division and this weekend offers up another opportunity for teams to move up or down in the standings, as all six teams are in action. Austin and Aberdeen are tied for 1st place with 32 points. Austin will take on the Minnesota Wilderness (31 points) in a home-and-home series, while the Wings will face Brookings (30 points) in a home-and-home series. Meanwhile, Bismarck (30 points) and Minot (28 points) will battle in three games this weekend, with two of those in Bismarck on Friday and Sunday. The Wilderness will also have a third game on the weekend as they host the Minnesota Magicians from the Midwest Division on Sunday.
In the East Division, the Wilkes-Barre/Scranton Knights will go outside the division to host the Kenai River Brown Bears for a pair of games, while Johnstown Tomahawks will host the Fairbanks Ice Dogs for two games on Saturday and Sunday. The Ice Dogs are 10-0-2 in their last 12 games. New Jersey, Northeast and Philadelphia are all idle.
In the Midwest Division, with Kenai River and Fairbanks out East, the Springfield Jr. Blues will also play outside of the division with two games against Topeka from the South Division. The Minnesota Magicians are in Janesville for one more game on Friday, as they try to avenge a 6-3 loss on Thursday. The Magicians will then play their third game on the weekend in Cloquet against the Wilderness on Sunday. The Coulee Region Chill are idle.
In the South Division, Shreveport and Corpus Christi wrap up their series on Friday after the IceRays took home a 2-1 overtime win on Thursday. The other series features a three-game set between Odessa and Amarillo, with Saturday and Sunday being in Amarillo, while Friday is in Odessa. Topeka hosts Springfield in an out-of-division battle, while the Lone Star Brahmas are idle.
Friday, December 29
Kenai River at Wilkes-Barre/Scranton - 7:30 PM EST
MN Magicians at Janesville - 7:00 PM CST
MN Wilderness at Austin - 7:05 PM CST
Aberdeen at Brookings - 7:05 PM CST
Shreveport at Corpus Christi - 7:05 PM CST
Springfield at Topeka - 7:05 PM CST
Amarillo at Odessa - 7:11 PM CST
Minot at Bismarck - 7:15 PM CST
Saturday, December 30
Kenai River at Wilkes-Barre/Scranton - 2:30 PM EST
Fairbanks at Johnstown - 7:00 PM EST
Odessa at Amarillo - 7:05 PM CST
Austin at MN Wilderness - 7:05 PM CST
Springfield at Topeka - 7:05 PM CST
Brookings at Aberdeen - 7:15 PM CST
Bismarck at Minot - 7:35 PM CST
Sunday, December 31
Fairbanks at Johnstown - 6:00 PM EST
MN Magicians at MN Wilderness - 5:05 PM CST
Odessa at Amarillo - 7:05 PM CST
Minot at Bismarck - 7:15 PM CST