Austin goalie Schilling makes NCAA DI commitment
December 27, 2017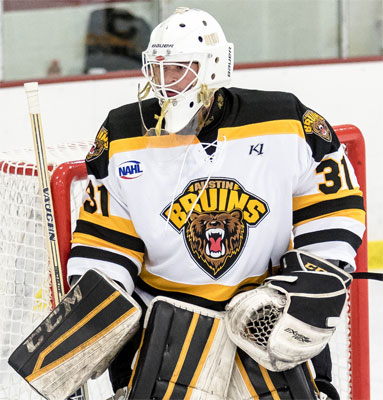 The Austin Bruins, proud members of the North American Hockey League (NAHL), have announced that goaltender Alex Schilling has made an NCAA Division I hockey commitment to the Air Force Academy Falcons for the 2018-19 season. Schilling, who celebrated his 20th birthday this past Saturday becomes the sixth DI committed Bruin on the active roster.
In his second season with the Bruins, Schilling has compiled an 8-7-2 record with a 2.27 goals-against average and a .921 save percentage. His ranks 10th in the NAHL in GAA and 5th in total minutes played among goaltenders (1082). Starting the season in a platoon with Mads Sogaard, Schilling has carried the bulk of the load the last two months, appearing in 11 of the Bruins' 14 games since November began. With Sogaard representing Denmark at the World Junior Championships, Schilling is likely to continue to see plenty of playing time in the coming weeks.
"Alex has been an ideal veteran backstop for us this season and has been a good partner for Mads [Sogaard] and his transition to the North American game," said Bruins Associate Head Coach and Goaltending Instructor Al Rooney. "But 'Schill' has been a steadying force for us back there just about all season especially considering the turnover we had on the blue line early on before finally settling on our current crop of defensemen."
Schilling's decision to play for the Falcons is about more than just hockey. "Going into my Junior career I've always had strong interest in doing something unique like the Air Force," he said. "For me, the Academy had a complete package with a great hockey program, excellent education, as well as the military aspect."
Air Force Academy is a member of Atlantic Hockey and is based in Colorado Springs, CO. Long time Falcons head coach Frank Serratore has an Austin connection – having coached the USHL's (and Riverside Arena's own) Austin Mavericks from 1982-85. The Air Force program has enjoyed recent success, making six NCAA Tournament appearances since 2007.
Being just days away from a '98 birthyear, Schilling ages out of Junior hockey eligibility after this season, but he says even with the pressure of gaining a commitment no longer there, his outlook will remain the same. "It is definitely a big decision and kind of a monkey off my back but I'm not going to change my demeanor with my game and I'm going to continue to push myself," said Schilling. "Now it's about helping other guys get deals."
Prior to his Junior career, Schilling was a standout netminder for Wayzata High School for three years, leading them to a Minnesota State Championship in his Senior season of 2015-16. From there he became a Bruin, an experience that was crucial to gaining his Division I deal. "The Bruins have helped me immensely in developing as a person and a player to be able to get this opportunity," he said. "From the coaching staff to my teammates and billets – everyone has helped me along the Junior experience."
Rooney pointed specifically to Schilling's ability to stay cool under pressure – a crucial quality in a goaltender, and one that applies not only on the ice, but off it too. "He has a great demeanor on and off the ice that I think is perfect for his position. He's unflappable in that he doesn't seize up or get tight in big moments," added Rooney. "I think it's infectious to the rest of the team when they see him handle things and be a steadying force back there for us, it calms everyone down and allows everyone to play their game. I couldn't be happier for him to see him experience this success; he has certainly earned it."