Sunday Wrap-Up: Rebels widen lead with three-game sweep
December 4, 2017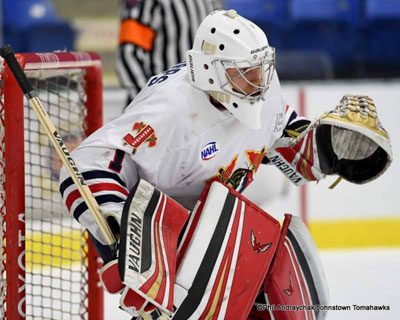 Philadelphia 3 @ Northeast 0 – Thanks to 25 saves from goalie Eli Billing, the Philadelphia Rebels completed a three-game weekend sweep of the Generals to widen their lead in the East with a 3-0 shutout win on Sunday. The shutout was the first for Billing this season. It was a balanced scoring attack for the Rebels, who lit the lamp in each period. Brandon Stanley scored in the 1st period on what was the eventual game-winner. Adam Peck added a 2nd period goal and Aaron Maguyon scored in the 3rd period. Marko Sturma made 47 saves in the loss for the Generals.
New Jersey 1 @ Johnstown 5 – Thanks to 43 saves from newcomer Cade Phipps, the Johnstown Tomahawks won their second straight game and claimed the three-game series with two of three wins thanks to a 5-1 win on Sunday. It was all Tomahawks from the opening face-off, as they scored three times in the 1st period, which included goals from Ben Schmidling, Mitchell Hale and Roman Kraemer. Goals from Andy Nedeljkovic and Donovan Ott in the 2nd period widened the lead to 5-0 after two periods. New Jersey's Matthew Cameron scored the lone Titans goal early in the 3rd period to break Phipps' shutout bid.
Topeka 0 @ Amarillo 5 – Goaltender Alexei Mansanko stopped all 22 shots that came his way for his first shutout of the season as the Bulls blanked the RoadRunners, 5-0 to take three of four points in their weekend home series. The Bulls opened up a 2-0 lead with 1st period goals from Jon Russell and Steven Ipri. Alex Peterson scored the lone goal of the 2nd period to make it 3-0 and Jason Brancheau and Gleb Murtazin scored goals in the 3rd period to make it a 5-0 final. Topeka goalie Sam Metcalf had 27 saves in the losing effort.
Shreveport 5 @ Corpus Christi 1 – The Mudbugs pushed their lead back to four points in the South as they took three of four points in a road series in Corpus Christi thanks to a 5-1 win on Sunday over the IceRays. Mudbugs goalie James Durham made 25 saves in the win. The Mudbugs lit the lamp for three goals in the 1st period, which came from Brendan Gysbers, Zachary Faremouth and Jake Transit. Transit would then add another goal in the 2nd period for his second of the game to make it 4-0. The IceRays got on the board early in the 3rd period off a strike from Jayson Dimizio, but Jordan Fader would answer back for the Mudbugs to make it a 5-1 final. IceRays goalie Jake Acton made 26 saves in the loss.