Fairbanks forward Ruffin makes NCAA DI commitment
November 21, 2017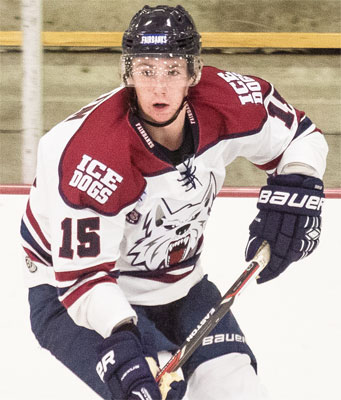 By Brad Joyal, News-Miner
Samuel Ruffin grew up in Westfield, Indiana, but he feels right at home in Fairbanks.
On Monday, the NAHL and Fairbanks Ice Dogs forward decided he wants to stick around awhile longer, as he committed to play NCAA Division I hockey at the University of Alaska-Fairbanks.
"I like the cold. I know I'm from Indiana and that sounds kind of weird, but I like the cold," Ruffin said in a phone interview. "It's hockey weather up here, and it's a beautiful place. There's no place like it, so I might as well stay up here to play college hockey."
Ruffin, who is in his second year in Fairbanks, became the third Ice Dog to commit to a Western Collegiate Hockey Association team.
Once he joins the Nanooks, he'll face Tanner Schachle, an Alaska Anchorage commit, and Robert Blueger, who plans to attend Lake Superior State.
"We're already developing some rivalries," Ruffin joked. "It's going to be fun to play against those guys and see how they're developing."
Ruffin said his decision to attend UAF was twofold. He got along well with the Nanooks' coaching staff and he believes Alaska will give him a chance to thrive in the classroom, regardless of whether he settles on majoring in sports management or engineering.
"I bonded pretty well with the coaching staff and they have what I want to study in school there," he said. "Of course, it's Division I hockey — which is amazing — but the coaching staff was really great to me."
As a rookie, Ruffin tallied 30 points (11 goals, 19 assists) for the Ice Dogs last season. He has four goals and nine assists in 20 games this year.
When it came time to choose which college he'd attend, Ruffin recognized Fairbanks as a hockey town. He knows how it feels to have the city's support as an Ice Dog, and he said he can't wait to continue playing in front of the home crowd at the Carlson Center as a Nanook.
"They're some of the best fans I've ever played in front of," he said. "They are always very supportive, whether it's the Nanooks or Ice Dogs. There's nothing better than playing in front of those fans, and there's no better place to play junior hockey than Fairbanks.
"It'll be fun to experience the Nanooks fans when I get there."