Sunday Wrap-Up: Rebels earn series split with 3-1 win on Sunday
November 13, 2017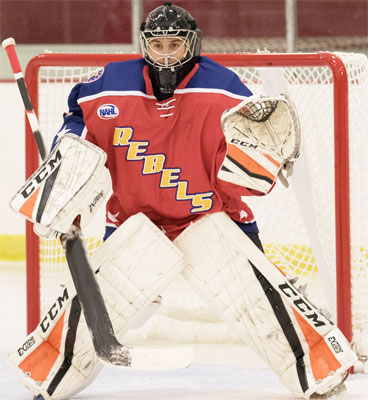 New Jersey 1 @ Philadelphia 3 – Ryan Keane made 28 saves and Jordin Holmes had a two-point night as the Philadelphia Rebels salvaged a weekend home split with the Titans thanks to a 3-1 win on Sunday at the Class of 1923 Arena.
The Rebels scored once in each period, which included a 1st period goal from Eric Olson, who got the scoring started 13:31 into the game as some pressure in the Titans zone saw the Rebels maintain possession of the puck, and then it became Olson's show as he dangled his way around the Titans defenseman and put a nice move on New Jersey goalie Brandon Perrone to get the goaltender down and then lift the puck into the back of the net. The Titans were able to tie the game late in the period as Nick Boyagian scored on the power play as he wired home a slap shot from the slot that beat Keane on the far side to tie the game at 1-1.
In the 2nd period, it didn't take long for the Rebels to regain the lead as Adam Peck scored 2:18 into the period as he potted home a rebound after a shot from the point to give Philadelphia a 2-1 lead.
In the 3rd period, the Rebels got an insurance goal from Jensen Zerban, which was his 6th of the season as he tipped home a shot from the point to secure the win.
Keane made 28 saves in the win, while Perrone made 24 saves in the loss.