23 in 23 Series: Lone Star Brahmas
August 29, 2017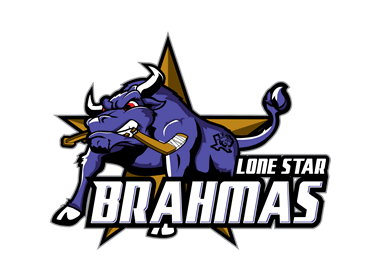 The 23 in 23 series features a look at all 23 teams in the NAHL for the 2017-18 season, with a new team being highlighted daily, leading all the way up until the start of the regular season. 23 in 23 looks into each NAHL team and will include video interviews with 23 coaches in the NAHL, as they provide fans with their expectations and outlook for the season, including taking a look at their strengths as a team and thoughts on the league. It will also take a look back on last season and how each team fared and what they accomplished.
Lone Star Brahmas
Head Coach: Dan Wildfong (5th year)
2016-17 record: 44-14-2, 90 pts. (1st in the South Division)
2016-17 leading scorer: Carson Kelley (50 points)
2017 Playoffs: Won the South Division, Won the NAHL's Robertson Cup National Championship
2017-18 Division: South
First regular season game: Friday, September 15th @ Shreveport Mudbugs
Home opener: Friday, October 20th vs. Corpus Christi IceRays
A dream season was fulfilled last year for the Lone Star Brahmas as they captured the NAHL's Robertson Cup Championship for the first time in their brief four-year history with a 3-0 shutout over the Aston Rebels on May 14, 2017. It capped a consistent run for the Brahmas, who had come close in previous seasons, but put an emphasis on being tough to score on, which rang true all season long.
While the Brahmas featured plenty of talent on both sides of the puck, which included 14 players from last year's team being committed to NCAA schools, it was the defense that ultimately won them the Championship. Throughout the 2016-17 regular season, the Brahmas were the league's second best team defensively. That was intensified even more in the playoffs, as they allowed just 21 goals in their 11 playoff games, which included the shutout in the Championship Game.
"At the beginning of the year you set your sights on winning a Championship, so to see that through and have our guys accomplish something like that is a very satisfying feeling," said Brahmas head coach Dan Wildfong. "It is a sense of accomplishment not for just our players, but for our entire ownership, staff, fans, sponsors, volunteers, and families as well. It is very rewarding to bring that cup back to Texas and celebrate it with everyone that made it possible."
Heading into the 2017-18 season, repeating for the Brahmas will be a tall task. It has been 10 years since a team repeated as Champions as the St. Louis Bandits did it in 2007 and 2008. The Brahmas roster last year that helped bring home a title was laden with experience. The loss of players moving onto the NCAA and aging out of junior hockey is significant for the Brahmas. In total, the Brahmas will be losing their top eight scorers from a season ago, which includes forwards Carson Kelley (SUNY-Geneseo), Pete Kessel (Holy Cross), Drake Glover (Alaska-Anchorage), Austin Kamer (Michigan State), Troy York (RPI), Hunter Stanley, and defensemen John Zimmerman (Army) and Simon Loof (Merrimack). In addition, both goalies Max Prawdzik (Boston University) and Alec Calvaruso (Colorado College) are off to the NCAA.
"It will definitely be hard to repeat, but we are excited about the challenge. It is something that hasn't been done in quite a while and our guys know it will be a lot of work," said Wildfong. "I'm excited about who we have coming back and coming into to camp for the 2017-18 season to help us try and do it. The focus is solely about the team and not on any individuals. We have a team first mentality."
Wildfong said that winning another championship and advancing players onto the NCAA remain the priority for the Brahmas organization. "We have an unbelievable ownership and staff that spend a lot of resources and work countless hours to ensure our players have the best experience possible while they are here. That goes a long way in determining their growth as a player they have playing in the NAHL," said Wildong. "We also do a lot as a team and a league to promote and expose our players to the NCAA coaches. I am proud to be a part of a great network of NAHL coaches that all have their player's best interest in mind when it comes to development and advancement."
Another thing that helped the Brahmas capture the Robertson Cup and makes them a contender from year to year is the support they receive from their home fans. Last season, the Brahmas finished 3rd in league attendance and were one of only six teams in the NAHL to win 20 or more games on home ice during the regular season. That type of edge goes a long way according to Wildfong. "It mattered in the playoffs when we had Game 5 of the South Finals on home ice. Our fans are second to none in the league. They enjoy hockey and are passionate about the game. When you come into the building it is always electric. We have a really good group of fans, sponsors, and staff who are unwavering in their support of our team and getting the word out there. We really want to make sure we give them a good product on the ice."
Next up in the 23 in 23 series: Minnesota Magicians