Kenai River forward Butcher makes NCAA commitment
July 20, 2017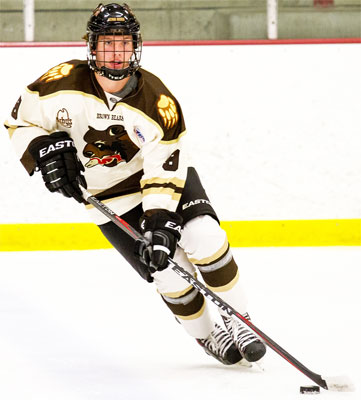 The Kenai River Brown Bears, proud members of the North American Hockey League (NAHL), are please to announce that forward Evan Butcher has committed to play NCAA Division III hockey for the University of Wisconsin-Stout.
Butcher, 20, just completed his third and final season playing in the NAHL, which were all spent with Kenai River. The native of Anchorage, Alaska played in 59 regular season games in 2016-17 and recorded 29 points (13 goals, 16 assists).
"I had a blast all three years in the NAHL playing in Kenai River," said Butcher. "I learned a lot and we had a lot of ups and downs as an organization, but I wouldn't trade it for anything. I met some lifelong friends and I am thankful for the opportunity to continue my hockey career in the NCAA playing for UW-Stout."
Butcher (5'11/165) played in 156 career NAHL games during his career. He made his NAHL debut during the 2013-14 season with Kenai River where he had two goals in his first two games.
Over the course of the next three seasons, Butcher recorded 69 points during his NAHL career.
Butcher is also a product of the NAPHL. During the 2011-12 season, he played for the Las Vegas Storm 16U team where he had three points in nine games. During the 2013-14 season, he played for the Pikes Peak Miners 18U team, where he recorded 15 points in 24 games played.
"Although I didn't get to coach Evan, the whole organization is very excited for him to receive this opportunity. Coaching against him, I learned that he was a tireless worker with good skill that could make you pay if given the opportunity. We wish him the best at UW-Stout and look forward to seeing him around the rink," said new Brown Bears head coach Josh Petrich.