Odessa goalie Flakne makes NCAA DI commitment
April 10, 2017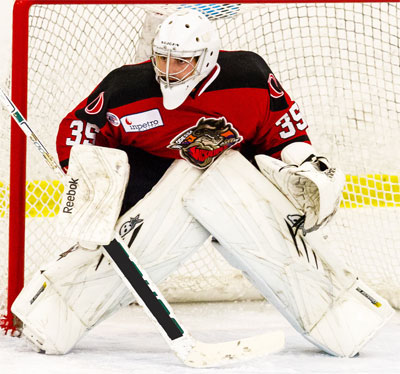 The Odessa Jackalopes of the North American Hockey League (NAHL) are proud to announce that goaltender, Jonathon Flakne, has committed to play NCAA Division I hockey for Colorado College of the National Collegiate Hockey Conference (NCHC). Flakne, 20, just completed his final season of junior hockey and will play for the Tigers for the 2017-18 season.
"Colorado College has a great academic program as well as a great hockey program, so it will be nice to be able to balance the two out," says Flakne. "Academics has always been important to me, especially going through high school, and that's something I want to continue on, especially when I was looking for a college."
Flakne (6'2/195) began his junior hockey career later than most, as he played for the Orono High School team for three seasons, combining for over 50 games played. The native of Maple Plain, Minnesota, would get tendered by the Minot Minotauros and play one game his senior year before joining the franchise the next season
Flakne earned a 7-6-2 record in Minot before getting traded to West Texas to finish his career off for the Odessa Jackalopes.
"It was a hockey trade, really. They [Minot] got Gunner Rivers for a playoff run last year and we got Flakne who got us into the playoffs," explained Head Coach Greg Gatto. "Minnesota boy who comes down here, loves to hunt and fish, so going to Colorado Springs is going to be a great opportunity for him."
Over the course of the next season and a half, Flakne has seen action in 42 games, earning a 15-17-3 record to go along with a .894 save percentage and 3.70 goals against average. Flakne is the longest tenured goalie in Jackalopes history, and ranks third in wins, only behind Connor Hellebuyck and teammate Jonny Hogue.
"Being the first goalie to be here over a year has been awesome. Getting in over 40-some games over the past two years has been a blast," said Flakne. "Coming down to Odessa to play hockey, I didn't know what to expect. After last season was over, I was so pumped to come back and this year has been a thrill the whole way through."