Mitens 9th shutout leads Rebels to win
January 12, 2017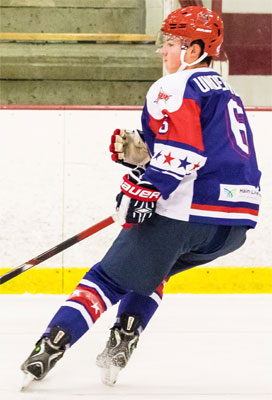 Aston 2 @ New Jersey 0 – In his first NAHL action since playing for his home country of Latvia at the 2017 IIHF U20 World Championships, Aston goalie Mareks Mitens stopped all 16 shots that came his way for his league-leading 9th shutout of the season as the Rebels blanked the New Jersey Titans on the road on Wednesday night, 2-0. Mitens is now just one shutout away from equaling the NAHL single-season record of 10, which was set by current UConn goalie Rob Nichols during the 2011-12 season.
The Rebels opened the scoring midway through the 1st period as a save by Mitens led to a rush up the ice. The Rebels got the puck to Brennan Kapcheck, who found a streaking Andrew Bellant crashing the net. Kapcheck zinged a pass than Bellant tipped past Titans goalie Brandon Perrone for a 1-0 lead and Bellant's 18th goal of the season.
In the 2nd period, the Rebels would add the second and final goal of the game, as a 2 on 1 into the Titans zone saw Evgeny Yakovlev feed defenseman Michael Underwood, who showed some good patience on the receiving end, firing a shot past a sprawled out Perrone.
The rest of the way was all Mitens as he held the fort for his 9th shutout, which included seven of his 16 saves in the 3rd period. Perrone took the loss, making 22 saves. It was the Rebels' league-leading 27th win of the year.