NAHL announces Bauer Divisional Stars of the Week
January 9, 2017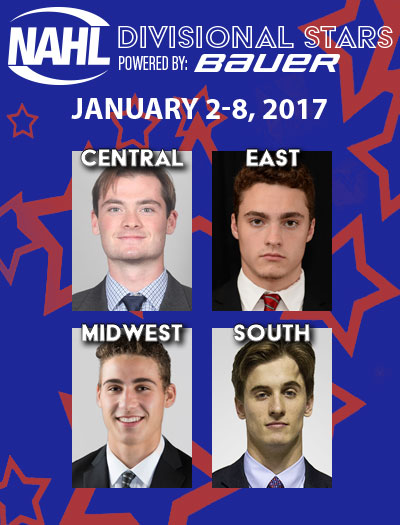 The North American Hockey League (NAHL) today announced the Divisional Stars of the Week presented by Bauer Hockey for the week ending January 8, 2017. The Bauer Hockey Divisional Stars of the Week is a weekly feature during the 2016-17 regular season that honors the top performing players in each of the four NAHL divisions. Only players that are nominated by their respective teams are considered for the Divisional Players of the Week award.
Central Division Star of the Week: Kevin Fitzgerald, forward, Aberdeen Wings
Aberdeen Wings forward Kevin Fitzgerald, 20, continued his hot play as he helped the Wings pick up a split of their weekend games. During the week, the native of Hinsdale, Illinois totaled five points (2 goals, 3 assists) and a +2 rating in two games. On Friday, Fitzgerald (6'0/180) had a goal and three assists in a 7-2 win over Bismarck. On Saturday, he added a goal in a 4-2 loss to Austin. Fitzgerald leads the Wings in scoring this season with 30 points in 32 games played. "Kevin has been a key component to our line-up. His skill level and work ethic make him a threat every night. Someone at the NCAA Division I level will get a very good player and even better person," said Wings head coach Scott Langer.
2nd Star: Justin Misiak, F, Austin Bruins
Honorable Mention (alphabetical): Nick Alexander, F, Bismarck Bobcats – Tristan Ashbrook, F, Bismarck Bobcats – Cam Babiak, D, Brookings Blizzard – Cade Borchardt, F, Brookings Blizzard – Lucas Murray, G, Minot Minotauros – Jon Richards, F, Austin Bruins – Michael Talbot, F, Minot Minotauros
East Division Star of the Week: Jack Leavy, goaltender, Aston Rebels
With regular netminder Mareks Mitens returning from the World Junior Championships after a rigorous schedule playing for Team Latvia, it was up to Rebels goalie Jack Leavy, 19, to start this weekend in a home series against Fairbanks. The 6'5/205 lbs. native of Birmingham, Michigan, answered the call and then some as he allowed just two goals all weekend as the Rebels completed a sweep. Leavy faced 52 shots and made 50 saves in the two games, which also included a 26-save shutout on Friday, his second shutout of the season. For the season, Leavy has an outstanding 7-1-0 record. "Jack has been outstanding all year when called upon. He was called on this weekend and played very well. We know now we have two goalies that can be counted upon," said Aston head coach Joe Coombs.
2nd Star: Matt Kidney, forward, Wilkes-Barre/Scranton
Honorable Mention (alphabetical): Daniil Bokun, D, Johnstown Tomhawks – Hayden Rowan, F, Johnstown Tomahawks – Keenan Sabatini, D, Wilkes-Barre/Scranton Knights – Evgeny Yakovlev, F, Aston Rebels
Midwest Division Star of the Week: Cole Paskus, forward, Janesville Jets
Janesville Jets forward Cole Paskus, 19, helped his team to a weekend home sweep of the Coulee Region Chill, putting up some big offensive numbers. The 6'0/185 lbs. native of Madison, Wisconsin, had six points during the weekend, which included four goals and two assists. In both games, Paskus scored twice and recorded an assist, which included the game-winning goal in Friday night's 5-3 win. For the season, the UMass-Lowell recruit has 33 points in 32 games played. "Cole and his linemates stepped up for us at a key time. We had a few veteran guys out of our lineup due to injuries and Cole was essential in setting the tone for our team both nights. Cole showed why he's a NCAA Division I hockey player. He made big plays in important situations Friday and Saturday. His line gave us the opportunity to win both nights," said Jets head coach Joe Dibble.
2nd Star: Michael Maloney, F, Janesville Jets
Honorable Mention (alphabetical): Jake Acton, G, Minnesota Magicians – Lucas Carroll, F, Kenai River Brown Bears – Matt Cassidy, F, Springfield Jr. Blues – Kevin Dineen, F, Coulee Region Chill – Bill Duma, F, Coulee Region Chill – Jon Marzec, F, Kenai River Brown Bears – Max Nylander, F, Springfield Jr. Blues – John Siebenaler, F, Minnesota Magicians
South Division Star of the Week: Pete Kessel, forward, Lone Star Brahmas
It was quite the weekend for Lone Star Brahmas forward Pete Kessel. The 20-year-old native of Detroit, Michigan, began the weekend with an NCAA Division I commitment to Holy Cross. He then followed that up with an unreal performance in two road wins in Topeka as Kessel (6'2/200) recorded five goals and a +4 rating in two victories. That included the game-winning goals both nights and a hat-trick in Friday's 4-2 win. For the season, Kessel leads the Brahmas in scoring with 35 points in 35 games played. "Pete has been a leader for us all year on and off the ice and has been a difference maker. With his recent NCAA Division I commitment, instead of being satisfied, he wanted to take his game to the next level and that's what he tried to accomplish in Topeka and he did just that. Now he is getting ready to help lead the team in three big games this weekend," said Brahmas assistant coach Al Rooney.
2nd Star: Dylan Lubbesmeyer, G, Shreveport Mudbugs
Honorable Mention (alphabetical): Luke Edgerton, F, Amarillo Bulls – Peyton Frantti, F, Topeka RoadRunners – Steven Ipri, F, Amarillo Bulls – Austin Kamer, F, Lone Star Brahmas – Frankie Melton, F, Shreveport Mudbugs – Will Schlagenhauf, F, Topeka RoadRunners