Bulls conclude holiday week of giving
December 16, 2016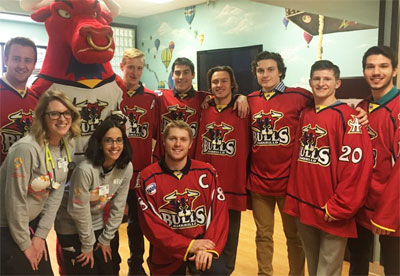 It's all about thinking about others this time of the year and spreading as much holiday and Christmas cheer as possible to help brighten the day of others maybe not doing so well.
The past couple of days have been busy for members of the NAHL's Amarillo Bulls hockey team as they have been giving back in the community in a variety of different ways.
It started on Saturday night as defenseman Brendan Michaelian scored early in the first period to give the Amarillo Bulls an early home ice lead over the Topeka RoadRunners. That goal sent down a cavalcade of Teddy Bears and Stuffed Animals in the 7th annual Toys For Tots Teddy Bear Toss. Over 500 stuffed toys were collected and given to the Toys For Tots Program.
On Monday night close to 200 Season Ticket Holders and Fans gathered in the Grande Plaza of the Amarillo Civic Center for the annual Christmas Party. Fans participated in Heads-Or-Tails Contests to win great prizes and the players got up on stage and sang Christmas Carols. There were also speeches from Head Coach Matt Nicholson and Vice-President General Manager Rick Matchett.
The Holiday Week of Giving concluded this afternoon (Tuesday) as several players, along with Rampage, Head Coach Matt Nicholson, Vice-President General Manager Rick Matchett, Equipment Manager Chris Schornack and Director of Community and Media Relations/Play-By-Play Broadcaster Denis J. Puska visited Northwest Texas Children's Hospital and later BSA Hospital. The Bulls dropped off Candy Canes, Christmas Cards, and tickets to the families and some of the hospital staff. In several of the rooms at BSA Hospital the players sang Christmas Carols and brought smiles to the patient's faces.