NAHL Alumni Report: League has presence on NHL rosters
October 13, 2016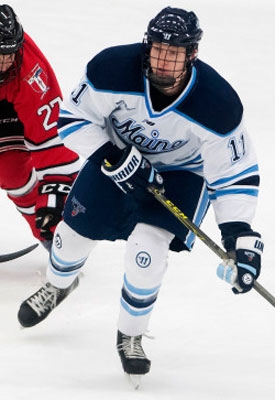 As the National Hockey League (NHL) opens its 2016-17 season, the NAHL alumni presence on opening night rosters is significant. The NAHL is pleased to announce that a total of 45 NAHL alumni are listed on opening night rosters of NHL clubs. 25 of the 30 NHL clubs begin the season with at least one NAHL alumni on the roster.
The list also includes former NAHL Coach of the Year Jon Cooper, who enters his fourth full season as the head coach of the Tampa Bay Lightning. Cooper began his NAHL coaching career with the Texarkana Bandits in the 2003-04 season. He coached in the NAHL a total of five seasons. In 2004-05 and again in 2007-08, he was honored as the NAHL Coach of the Year.
The list also includes six of the 30 starting goalies in the NHL. They include Craig Anderson (Ottawa), Ben Bishop (Tampa Bay), Connor Hellebuyck (Winnipeg), Jimmy Howard (Detroit), Ryan Miller (Vancouver) and Cory Schnieder (New Jersey).
Anaheim Ducks: Cam Fowler, Ryan Kesler
Arizona Coyotes: Jamie McBain
Boston Bruins: Jimmy Hayes, John-Michael Liles
Buffalo Sabres: Matt Moulson, Casey Nelson
Carolina Hurricanes: Justin Faulk, Ron Hainsey
Chicago Blackhawks: Scott Darling, Patrick Kane
Colorado Avalanche: Erik Johnson
Columbus Blue Jackets: Nick Foligno, Jack Johnson, Brandon Saad
Dallas Stars: Patrick Eaves
Detroit Red Wings: Jimmy Howard, Drew Miller, Thomas Vanek
Edmonton Oilers: Patrick Maroon
Los Angeles Kings: Nic Dowd
Minnesota Wild: Christian Folin, Ryan Suter, Jason Zucker
Montreal Canadiens: Al Montoya
Nashville Predators: Matt Carle, Colin Wilson
New Jersey Devils: Andy Greene, Keith Kinkaid, Jon Merrill, Kyle Palmieri, Cory Schneider
New York Rangers: Adam Clendening
Ottawa Senators: Craig Anderson, Chris Wideman
Pittsburgh Penguins: Ian Cole, Phil Kessel
St. Louis Blues: Kevin Shattenkirk
Tampa Bay Lightning: Ben Bishop, Andrej Sustr
Toronto Maple Leafs: Matt Hunwick, James van Riemsdyk
Vancouver Canucks: Ryan Miller
Washington Capitals: Justin Williams
Winnipeg Jets: Connor Hellebuyck, Mark Stuart
NAHL alumni earn weekly NCAA honors
Hockey East Rookie of the Week: Mitch Fossier, Maine (Janesville)
Mitch Fossier (Alpharetta, Ga.) began his Black Bear career by netting a hat trick in a 5-1 win over RPI and followed that performance by scoring the game-winning marker in a 4-2 Maine victory the next night.
Hockey East Defensive Player of the Week: Rob Nichols, UConn (Wenatchee)
Rob Nichols (Dallas, Texas) kicked out back-to-back shutouts for the second time in his career and just the second time in UConn program history with consecutive blankings of Alabama Huntsville. The senior netminder stopped 44 shots in the two wins, his ninth and 10th career shutouts.
NCHC Goaltender of the Week: Nick Deery, Minnesota-Duluth (Brookings/Odessa)
Deery made his NCAA regular-season debut Friday at No. 8/7 UMass Lowell in relief, entering in the second period with the Bulldogs trailing by three goals, but UMD rallied to earn a 4-4 overtime tie. He stopped all 13 shots he faced over the final 30:51 of play, including overtime, to preserve the draw. Deery earned his first career start the next night and conceded only one goal, which came on the power play, as he totaled 24 saves on 25 shots in a 1-1 overtime tie. The redshirt freshman posted an NCHC-best .974 save percentage on the weekend while compiling a 0.63 goals-against average in nearly 96 minutes of action. Deery was named the game's third star both nights at UML after totaling 37 saves on 38 shots in the series.
WCHA Offensive Player of the Week: Robbie Payne, Northern Michigan (Kalamazoo)
Payne had an outstanding opening weekend, tying for the WCHA lead with three goals and six points as Northern Michigan split a pair of games with Wisconsin at the Resch Center in Green Bay. The junior from Gaylord, Mich. helped the Wildcats to a 3-2, opening-night victory, as his second-period, power-play goal snapped a 1-1 tie and gave NMU a 2-1 lead they would not relinquish. Saturday night, Payne became the first Northern Michigan player to record a five-point game in 10 years, tallying two goals and three assists. Both of his goals were short-handed, the second was unassisted and both tied the game, once at 1-1 in the first period and then again at 4-4 late in the second. Although the Wildcats eventually lost a wild, 6-5 decision, Payne finished the night with a +4 rating. This is Payne's first career WCHA weekly award.