NAHL unveils 35th Anniversary logo
August 18, 2010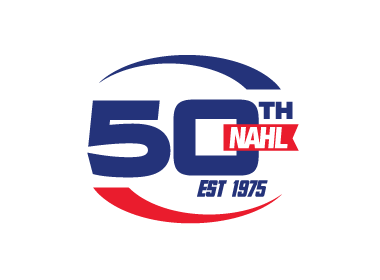 FRISCO, TEXAS – The North American Hockey League (NAHL) has announced the unveiling of its 35th Anniversary logo.

"This is a milestone season for the North American Hockey League and, given its rich history and tradition, one we're excited to celebrate," said NAHL commissioner Mark Frankenfeld. "The league has come so far over the years, both on and off the ice, and there's so many individuals who deserve credit for helping make the NAHL the best junior league in North America."

The 35th Anniversary artwork will serve as the NAHL's primary logo on all Web- and print-related materials for the 2010-11 season, as well as on player helmet stickers and on-ice official patches. It will also be displayed prominently at all NAHL events, including next month's SBK Hockey Showcase Tournament, the season's two SBK Hockey Top Prospects Tournaments and the Robertson Cup Championship Tournament.

The NAHL, which began as a five-team league in 1976-77, has evolved into a 26-team circuit with teams in 13 states and one Canadian province. It is one of North America's premier developers of collegiate and professional players.

"Reflecting on how far our storied league has come over three-and-a-half decades, it's amazing to think what began as a handful of teams has evolved into what is today the largest Junior A circuit in the United States and, more importantly, one of the most revered thanks to the efforts of all of those early pioneers," Frankenfeld added.

The league's regular season commences on Friday, Sept. 10.

The Showcase Tournament will be held from Sept. 15-18 at the Schwan Super Rink in Blaine, Minn. All 26 NAHL teams will play four regular-season games at the Showcase, which is one of hockey's most prestigious and well-attended events of the entire season.

Celebrating its 35th Anniversary in 2010-11, the NAHL, the only USA Hockey-sanctioned Tier II Junior A league boasting 26 teams from across North America, prides itself on the social maturity and skill development of student-athletes ages 16-20 with aspirations of advancing to collegiate and/or professional hockey.