Higby named NAHL's Most Valuable Player
May 4, 2010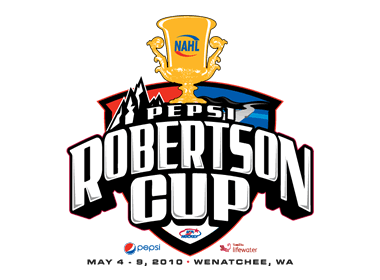 WENATCHEE, WASH. - The North American Hockey League (NAHL) announced tonight at the Robertson Cup Championship Tournament banquet that Topeka RoadRunners forward Erik Higby has been named its Most Valuable Player for the 2009-10 season, as selected by the league's coaches and general managers.

Higby was also selected as the NAHL's nominee for the 2010 USA Hockey Junior Player of the Year Award, named Forward of the Year and to the All-NAHL Team.

Higby, a 20-year-old from New Braunfels, Texas, won the NAHL's regular-season scoring title with 80 points on 27 goals. His plus-36 rating also led the NAHL.

"Erik is a special type of player," said RoadRunners head coach Scott Langer. "His vision and abilities on the ice are tremendous, but what really sets him apart is the way he goes about his business; he's focused, determined, intelligent, and he quietly leads by example."

Higby, who participated in January's NAHL Top Prospects Tournament, has committed to Northern Michigan University (CCHA) for next season. His on-ice performance earned him NAHL South Division Player of the Week honors three times this season.

"Erik's production on the scoresheet is what the casual fan first sees, but it's his demeanor with his teammates and with the public that sets him apart," Langer added.

Higby's point total and 53 assists (second in the NAHL) also set team records for the RoadRunners, who won the league's South Division regular-season title.

"For a player who led the league in scoring and rewrote pages of the organization's record book, he's quite humble," said Langer. "He does all these things and is a solid citizen off the ice. What more can a coach or an organization ask for?"

Also named to the All-NAHL Team were: forwards Michael Juola of the Fairbanks Ice Dogs and Jeff Jubinville of the Wenatchee Wild; defensemen Derek Docken of the Albert Lea Thunder and Jake Parenteau of the Alaska Avalanche; and Wenatchee goaltender Brandon Jaeger.

Other award winners recognized at the banquet were:

NAHL Defenseman of the Year
Derek Docken, Albert Lea Thunder
In 56 games with the Albert Lea Thunder this season, Docken totaled 24 points on five goals and was also a plus-23. The 19-year-old from Northfield, Minn., has also secured a scholarship to the University of Alaska-Anchorage of the WCHA.

NAHL Sherbrook Goaltender of the Year
Brandon Jaeger, Wenatchee Wild
A 19-year-old from Champlin, Minn., Jaeger fashioned a 22-3-1 record in 29 appearances to compliment a NAHL-best goals-against average of 1.83 and save percentage of .928 for the regular-season champion Wenatchee Wild.

NAHL Rookie of the Year
Tanner Kero, Marquette Rangers
In his first Junior A season, Kero led the NAHL with 32 goals while totaling 51 points in 57 games for the North Division regular-season champion Marquette Rangers. The 17-year-old from Hancock, Mich., has also secured a scholarship to Michigan Tech University of the WCHA.

NAHL Coach of the Year
Dane Litke, Janesville Jets
In the team's inaugural season, Litke guided the Janesville Jets to a third-place finish in the NAHL's North Division with a 29-23-6 record. His team's leading scorer also committed to a Division I school for next season.

NAHL General Manager of the Year
Scott Langer, Topeka RoadRunners
Langer was the architect behind the Topeka RoadRunners' South Division regular-season title this season, guiding the team to a 44-9-5 record, good for 93 points. Under his watch, six RoadRunners players have committed to Division I schools to date, and he also orchestrated Topeka's successful bid to host the 2011 Robertson Cup Championship Tournament.

NAHL Organization of the Year
Wenatchee Wild
In its second season, the Wild drew both a league-high average attendance of 3,417 and total attendance of 99,108. On the ice, it finished with best regular-season record in the NAHL, fashioning a 45-10-3 mark, good for 93 points. In addition, nine of its players have committed to Division I programs to date.

NAHL Academic Achievement Award
Robb Haider, Alaska Avalanche
Haider graduated Magna Cum Laude from South Anchorage High School, where he also was a member of the National Honor Society. The Anchorage native was honored each semester with the school's Academic Achievement Award and achieved a perfect 4.0 GPA.

NAHL Community Service Award
Mitch Torrel, Weantchee Wild
Torrel contributed over 96 hours of service in his local community, including leading the charge in a reading campaign with his team, which covered over 70 classrooms. The Air Force Academy recruit from Monticello, Minn., was also recognized in March for his heroics in alerting the local fire department and helping evacuate the residents from a burning senior living facility.