Austin edges Brookings in OT on Wednesday, 1-0
January 22, 2015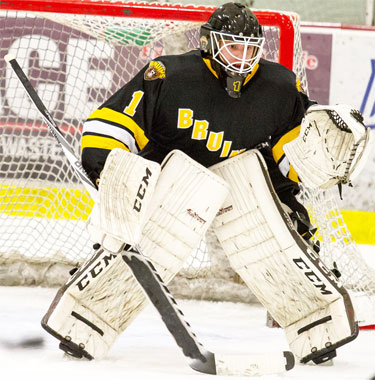 By Rocky Hulne, Austin Daily Herald
Brookings 0 @ Austin 1 (OT) - The Austin Bruins had an exercise in patience in Riverside Arena Wednesday night, and they passed the test.
After failing to score on their first 30 shots on goal, the Bruins made their lone goal count when newcomer Alex Jasiek knocked in a rebound off a Brian Bachnak slap shot to give Austin a 1-0 win over Brookings (13-17-7 overall) with 2:15 left in overtime.
"Luckily Brian saw me going backdoor and he made an unreal play," Jasiek said. "He passed off the pad far side and luckily it bounced right to my stick and I knocked it in."
Jasiek, who is from St. Louis, Missouri, has been playing with the Bruins for three weeks after the team picked up from the Cedar Rapids Roughriders of the USHL after he broke his wrist.
Austin had plenty of chances to score in regulation Wednesday, but it couldn't find the net against Blizzard goalie Ryan Kubic, who made 30 saves on the night. The Bruins out-shot the Blizzard 9-3 in the second period and Corey Dunn had a penalty shot stopped with 6:07 left in regulation.
"The negative thing was that we weren't taking away [Brookings goalie's] eyes and he was seeing a lot of shots," Austin head coach Chris Tok said. "We weren't getting second opportunities and there was little chance for our first shot to go in because he was seeing it. The good thing was that we didn't score and we kept playing the game the right the way."
The win brings the Bruins (21-9-10 overall) within four points of first place Minot in the NAHL Central and Austin has now won three straight games. Bachnak said some of the younger Bruins are starting to figure things out.
"I think we're starting to come together as a team," he said. "I think we're starting to really learn what compete means. When coach Tok said at the beginning of the year said we he we need to compete, I don't think guys understood what his expectations were. He's a very hard nosed coach and competing to him is giving everything you've got and doing everything you can."
Jake Kielly had 18 saves in the win for Austin in his second shutout of the season.