December 6, 2013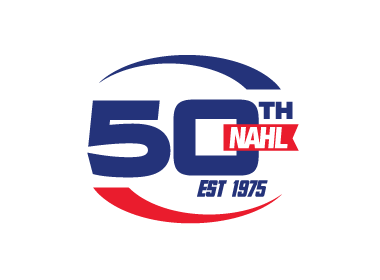 All 24 NAHL teams are in action this weekend as action continues across the country. Every division has at least two series this weekend and three more series are out of the division.
Central Division
Brookings Blizzard vs. Bismarck Bobcats (home and home) – Surprisingly, this is just the fourth and fifth meeting of the season between Brookings and Bismarck. Bismarck is 3-0-1 in their last four games, while the Blizzard have lost their last three in the row. Bismarck sits just a point ahead of Aberdeen in 2nd place in the Central, while the Blizzard may get a lift from veteran NAHL goalie Connor Girard who joined the team this week.
Minot Minotauros vs. Aberdeen Wings (home and home) – The resurgent Minotauros, who have won six in a row and seven out of their last eight, come into their home and home serie with Aberdeen, having beaten the Wings last weekend in Minot by scores of 4-3 and 4-0. Minot's leading scorers against Aberdeen are both defensemen, Kyle Kruenegel and Michael Bigelbach. The Wings leading scorer this season against the Minotauros is forward Jonathan Grebosky, who has six points in four games against Minot.
Midwest Division
Minnesota Magicians vs. Coulee Region (home and home) – This battle looms large for both clubs, who are separated by just a point for the fourth and final playoff spot in the Midwest Division. The Magicians currently occupy 4th with 27 points, while the Chill have 26. The Magicians are coming off of their first ever weekend sweep of the year and also their first shutout. The Chill have lost three in the row. These two teams have met twice before this weekend, with each team winning a game.
Kenai River Brown Bears @ Fairbanks Ice Dogs – Fairbanks has every thing going for them heading into this series. They have won eight straight games and are a perfect 6-0 against the Brown Bears this season, which includes a sweep in Kenai River last weekend as Fairbanks outscored their rivals from the South, 12-8. The Brown Bears are riding a tough streak, having lost their last four games and 10 of their last 11 games.
North Division
Soo Eagles @ Janesville Jets – With both teams on the outside looking in of the North Division playoff picture, points are at a premium this weekend as the Eagles visit the Jets. Janesville is riding a three-game winning streak and goaltender Logan Halladay was named the North Division Star of the Week last week. Jordan Himley has two of the last three game-winning goals. The Eagles have lost their last three in a row and nine of their last 10 games. Eagles forward Bruno Birzitis has seven points in his last five games.
Port Huron Fighting Falcons @ Michigan Warriors (Friday) – The Warriors snapped a three-game losing skid on Wednesday in a 4-3 shootout win in the Soo. The Fighting Falcons, who are in 1st place, enjoy a five-point lead in the North Division. Port Huron is coming off a weekend home split with the Springfield Jr. Blues. After winning five of their first six games in November, Port Huron has lost three of their last four. Forward Matt Seidel has seven points in his last five games.
South Division
Wichita Falls Wildcats @ Rio Grande Valley Killer Bees – With the teams tied for 2nd place in the South Division standings at 33 points apiece, this is a big weekend series for both clubs. This weekend marks the 7th and 8th meetings of the year between the two clubs. Rio Grande Valley holds a 3-2-1 edge over the Wildcats this season, which includes a sweep of the Wildcats the last time the two teams played in Wichita Falls back on November 1st and 2nd. Wichita Falls forward Will Vosejpka and Killer Bees forward Ben Greiner have had the hot hand of late, each recording six points in their last four games.
Corpus Christi IceRays @ Odessa Jackalopes – The Jackalopes have owned the IceRays so far this season, posting a 5-1 record thus far against their rivals from the East. Including this weekend, the two teams will have faced one another eight times in the last six weeks. The Jackalopes success against Corpus Christi has been in large part thanks to their goaltending as they have allowed just 11 goals in the six games. The IceRays have won three of their last four games and forward Jake Durflinger has four goals in his last five games.
Amarillo Bulls @ Lone Star Brahmas – The Bulls enjoy the best record in the league and the largest division lead of any team (8 points). Meanwhile, the Brahmas are in last place in the South and the NAHL. The Bulls won the only two previous meetings between the two clubs back on November 5th and 6th at Lone Star by scores of 4-2 and 7-0. Amarillo has lost two of their last four games, but they do possess the #1 offense in the NAHL, scoring just under four goals a game. Lone Star is averaging two goals per game.
Odessa Jackalopes @ Amarillo Bulls (Sunday) – Sunday will be the third meeting of the year between the two clubs. Amarillo swept Odessa back on September 27th and 28th by scores of 4-2 and 4-0.
Out of Division
Austin Bruins vs. Minnesota Wilderness (home and home) – In a battle of respective 1st place clubs, the Bruins and the Wilderness will face one another in a home and home series. The two teams have met just once previously back on November 6th with the Wilderness posted a 3-0 shutout against the Bruins. Austin is riding a two-game skid, the first time all season they have list two straight. Minnesota's Kasimir Kaskisuo has seven shutouts already this season to lead all NAHL goaltenders. The Wilderness have won 12 of their last 15 games.
Topeka RoadRunners @ Springfield Jr. Blues – Over the past couple of seasons, the Jr. Blues have been a challenge for the RoadRunners and this season has proven no different. Topeka has one win in just four tries this season against the Jr. Blues. Topeka netmider PJ Bridges has been on first in his last four games, posting a 3-0 record with a .82 goals against and 96% save percentage. Springfield hasn't lost in regulation in their last six games and are led by Patrick Curry, who has six points in his last five games.
Johnstown Tomahawks @ Wenatchee Wild – In one of those scheduling ironies the Johnstown Tomahawks will face the Wenatchee Wild for the third series in the last four weeks and the second straight in Wenatchee. Last weekend was a fairly successful one for Johnstown in Wenatchee as they took three of four points from the Wild. Wenatchee won in overtime on Saturday, 3-2 and Johnstown won 3-2 on Sunday. Alex Okicki has started the last four Tomahawks games and posted a 3-0-1 record. Parker Tuomie and Trey Bradley have been on first for the Wild, each scoring nine points in their last five games.