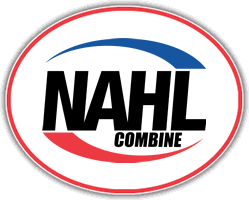 Combine - Attleboro, MA
New England Sports Village -

Attleboro,

MA
April 5 - 7, 2019
1395A Unit 1 Commerce Way, Attleboro, MA 02703
Combine - Attleboro, MA
Junior Combine
What are the NAHL Combines:
The intent and goal is to provide the aspiring hockey player to take part in a one-of-a-kind experience that is designed to maximize exposure at grand-scale events that provide a true look and feel of the genuine NAHL Experience. NAHL Combines are carefully designed to provide an experience, education, and exposure for prospects that strive to advance their hockey development at the junior hockey and college level.
Operated by the NAHL professional staff and coaches, each Future Prospects Combine is designed to provide a glimpse into a true "NAHL EXPERIENCE". The objective of an "NAHL Experience" is to provide exposure, education and an experience for prospects that strive to advance their hockey development at the junior hockey and college level.
The NAHL offers three different combines: 14U Combine(2005-2006) and 16U Combine (2003-2004) combines are for Future Prospects of the NAHL. The NAHL also offers a Junior Combine for junior age (2003-1999) players who are looking for scouting exposure to all NAHL and NA3HL teams.
EXPOSURE means that players compete in front of junior and college scouts and gain additional exposure through NAHL Central Scouting. With NAHL Tryout Camps and the NAHL Draft taking place from May through July, NAHL Combines are a perfect indicator to evaluate just how ready they are for the next step and receive valuable feedback.
EDUCATION ensures the players are provided knowledge about NCAA compliance and eligibility, recruiting processes, the correct and legitimate path to college hockey, as well as an in-depth look at the three different tiers of junior hockey. This includes seminars that discuss the NAHL junior hockey experience, the ladder of development, as well as, NCAA compliance seminars.
EXPERIENCE means that players from all over North America and Europe will play multiple games against other NAHL and NCAA hockey prospects with team's coached by staff members from NAHL, NAHL Central Scouting, and NA3HL teams, providing a top notch, professional, and memorable experience.
The NAHL is the only USA Hockey-sanctioned Tier II Junior league boasting 24 teams from across North America. The NAHL prides itself on the social maturity and skill development of student-athletes ages 16-20 with aspirations of advancing to collegiate and/or professional hockey. During the past five years more than 1,300 NAHL players have made NCAA commitments and 17 more NAHL players have been selected in NHL Drafts. Last season, the NAHL set an all-time record of 321 NCAA commitments during one season, further reinforcing that when it comes to players entering the league without a commitment, but earning one while they are playing in the league, there is no one better at it than the NAHL.
The NAHL's dedication to player development is demonstrated by the league's high-profile annual exposure events like the NAHL Showcase, the NAHL Top Prospects Tournament, and the NAHL Robertson Cup National Championship, which have all evolved into hockey's most prominent and popular of its kind and are a must-see for NCAA programs and NHL teams alike.
What Takes Place at the NAHL Combines?
At the event, players will be introduced and exposed to junior hockey including the NAHL, NA3HL, and the NAPHL (Tier I Midget Hockey). The players weekend will consist of competitive hockey, education of the future levels of hockey, academic preparation for NCAA hockey and exposure to scouts from NAHL Central Scouting, NAHL, and NA3HL. This includes seminars that discuss the NAHL junior hockey experience; the ladder of development; NCAA compliance seminars; and, on Saturday, an educational seminar for participants and their families.
On the ice, each team will play four games. Players will also receive a NAHL Combine jersey, hockeys socks, and NAHL gift.
Cost
$300/player
Junior Coaches Involvement:
Each team will have NAHL Central Scouting, NAHL and NA3HL staff members working with the bench during the games. This is a very valuable time for both the players and the coaches as new relationships are being developed.
Scouting and Exposure:
At these events, the NAHL's primary focus is educating young prospects and families about the junior hockey landscape. Given the high-caliber players participating at these events, the Combines attract scouts from all levels.