Jets becoming a staple in the community
December 4, 2013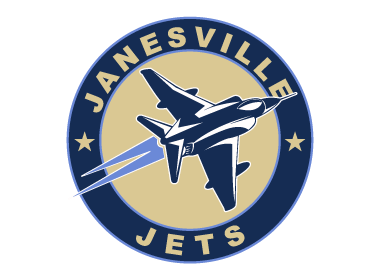 Janesville Gazette - Being able to meet someone you admire is huge. So when the Janesville Jets of the North American Hockey League (NAHL) volunteer at Riverfront, Inc., they're treated like rock stars.
"They're stars of the movie," said Sharon Fitzpatrick, volunteer and events coordinator at the local nonprofit facility that provides support and employment for adults with disabilities.
Jets hockey players willingly pose for pictures with Riverfront participants. They also chat, play games, exercise and patiently listen to them talk about their production facility jobs, she said.
What happened with one shy Riverfront participant--a huge Jets fan who rarely speaks--shocked Fitzpatrick. The young man walked up to each of the Jets players, introduced himself, then asked their names.
"It took him more than six months to say more than one word at a time, so for him to greet someone he doesn't know, brought him out, enriched his life and made a difference," Fitzpatrick said.
Volunteering became a requirement for Jets players in 2012, said Greg Hanthorn, operations manager.
Players who still are in high school must devote at least eight hours a month while those out of high school are required to donate 12 hours a month, Hanthorn said.
Many of the players, including co-captain Mike Sullivan, give back much more without hesitation.
"It's a good deed to do for the fans and other people in town, and it's a big part of getting taught life's lessons," said the 18-year-old Chicago native, who plays right wing for the North American Hockey League team.
Jets goalie and co-captain Brock Kautz, 19, of Rochester, Minn., agreed.
"We love getting out there, showing our support and giving back to the community that supports us." he said.
The team consists of 23 players who range in age from 16 to 20 and come from Sweden, Canada and throughout the United States. Together, they donated 2,200 volunteer hours to schools and nonprofits in Janesville, Clinton and Beloit during 2012.
Projects included gathering Toys for Tots, skating as waiters at different restaurants to raise funds for various causes and helping with breast cancer awareness, school reading programs, the Clinton Community Food Bank, the American Red Cross, Rock Around the Block and LaborFest.
The team's efforts won it Forward Janesville's 2013 Community Improvement Award.
Hanthorn is confident the Jets will commit to 2,500--hopefully 3,000--hours of community service this year.
"They've been given a gift with the ability to play hockey. All we ask is for them to give back to the community that supports them, and they do," he said.
Hanthorn said the players never complain or ask if they have to do something. Instead they always say yes to a project and want to know what needs to be done next.
"They realized they're blessed. So they just do it," he said.
"It's a big deal to our organization and owners to give back to this community. Our goal is to make good young men as well as good hockey players," Hanthorn said. "Being a good hockey player is one thing. Being a good human being is another thing."
Having the Jets volunteer is priceless, Fitzpatrick said.
"They were so kind and treated our participants with dignity when a lot of times, in the regular, outside world, they aren't treated that way," she said.
The interaction between the players and participants also has health benefits, including a boost in self-esteem, Fitzpatrick said.
"Some people find it difficult to work with people with disabilities," she said.
But not the Jets.
"For a lot of us it was new. But I enjoyed it," Kautz said. "I thought what we did was special. It was nice to put a smile on their faces."
The Jets also were instrumental in helping Independent Disability Services achieve its fundraising goals, said Lisa Ames, executive director.
"If I didn't have them, I'd rely more on my staff to do that volunteer work, which then would inhibit us in getting the word out about what we do," she said. "The group of young men who have been volunteers for us have been kind, hard-working, polite and respectful. We thoroughly enjoy working with them and couldn't be more thankful for their time."
Janesville Salvation Army Volunteer Coordinator Julie Cunningham also is thankful for the Jets.
"We are so lucky to have them. They have been a blessing for us and help us help the community," she said.
David Cullen said it's unfortunate people often hear only bad stories about professional and college athletes when most are involved in in a positive way in their communities. That's why as one of the owners of the local team, he knew it would be critical for the team to have a positive image.
It also is important for Cullen and other Jets owners that the players are well-rounded individuals, which also is accomplished through volunteerism, he said.
"It's part of their growth as young men and they accept it with willingness and enthusiasm without complaining," he said. "The nonprofits in this area don't exist without volunteers. They have to have them to be successful and that's the key for players doing this at a young age, to get exposed to it.
"Most of the Jets are humble and don't seek a need for recognition," Cullen said.
Instead, he said, they relish the opportunity to contribute to the community.