Eagles edge Warriors on Wednesday
November 20, 2013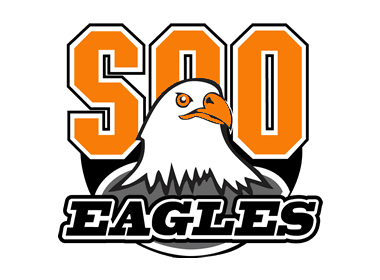 Michigan Warriors 4 @ Soo Eagles 5 – For the first time in 13 games, this Michigan Warriors were beaten in regulation as the Soo Eagles snapped a six-game losing streak with a 5-4 win on Wednesday night in the lone game in the NAHL.
Late in the 1st period, it was the Warriors who struck first on a goal from Cody Juster. However, the Soo was quick to respond as three minutes later Derek Lodermeier knotted the game at 1-1 and at the end of the period Denver Pierce scored to give the Eagles the lead at 2-1.
The lead would swell to 3-1 in the 2nd period on a shorthanded goal from Mike Sabatini and then increase to 4-1 early in the 3rd period on a power play goal from Jacob McDowell.
The Warriors never said die as they scored twice in the middle of the 3rd period to draw the score to within 4-3 as Zack Szajner lit the lamp twice. Bruno Birzitis scored a power play goal at the 12:43 mark to give the Eagles a 5-3 lead and eventual game-winning goal. Jake Hopfner made it 5-4 with a goal late in the 3rd period, but the Warriors could not find the equalizer.
Soo narrowly outshot the Warriors 32-31. Paige Skoog made 27 saves in the win, while Dillon Kelley took the loss, also making 27 saves. With the win, the Eagles move one point behind Springfield for the 4th and final playoff spot in the North, while the Warriors hold steady in 2nd place in the North with 28 points.