NAHL alumni earn more recognition
November 13, 2013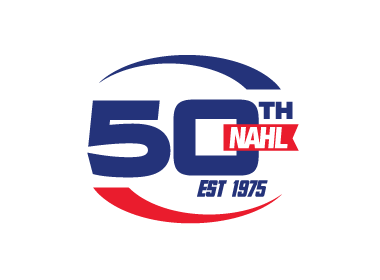 This past week saw two NAHL alumni honored by their respective NCAA Division I conferences. In addition, 14 NAHL alumni were named to a United States National Team.
Former NAHL goaltender Greg Lewis was named as the Eastern Collegiate Athletic Conference (ECAC ) Goaltender of the Week, while former NAHL forward Jon Puskar was named the Atlantic Hockey Association (AHA) Player of the Week.
Lewis, a native of Mars, Pennsylvania, made back-to-back starts for the first time this season. Lewis backstopped the Clarkson Golden Knights to their first weekend sweep on the road in nearly three year with a pair of one-goal victories. He allowed only three goals combined over the weekend on the road making 26 saves in the 3-2 win at Dartmouth Friday, including 14 in the second period and posted 22 stops in Saturday's 2-1 triumph at Harvard. He is now 6-1-0 on the season with a 1.86 goals-against average in overall action.
Lewis spent two seasons playing in the NAHL, most recently for the Wenatchee Wild. He started the 2010-11 season with the Amarillo Bulls before being traded to Wenatchee where he spent the remainder of the 2010-11 and all of the 2011-12 seasons. Lewis also played in the 2012 NAHL Top Prospects Tournament for Team West. In 34 career NAHL games, Lewis posted a 14-17-3 record with a 2.01 goals against average, a 91.6% save percentage and four shutouts.
Puskar, native of Canton, Michigan, scored two goals in the second period of American International's 8-7 win over the Bentley Falcons on Friday, including a go-ahead goal with just five seconds left in the frame, and also added three assists in the contest, including on the game-winning goal. In addition to his five points, he was a +2.
Like Lewis, Puskar also played two seasons in the NAHL, both for the Alpena IceDiggers during the 2007-08 and 2008-09 seasons. In 76 career NAHL regular season games, all with Alpena, Puskar had 62 points, which included 33 goals and 29 assists.
In other NAHL alumni news, USA Hockey recently announced the roster for the 2013 U.S. Men's National University Team, which will compete in the Winter World University Games Dec. 10-21 in Trentino, Italy.
The roster includes 14 NAHL alumni. They are:
Forwards
Brian McGinty-Arizona State University (Mahoning Valley/Owatonna, 2007-10)
John Olen-University of Illinois (Janesville, 2010-12)
Gehrett Sargis-Robert Morris University-Gold (Owatonna/Wenatchee/Janesville, 2008-10)
Steve Brancheau-Lindenwood University (Motor City, 2009-11)
Billy Balent-Oakland University (Motor City, 2008-11)
Jon Feavel-Iowa State University (Fairbanks, 2008-10)
Nick Taurence-Eastern Michigan University (Bismarck/Motor City/Alpena/Texas Tornado, 2007-10)
Bobby Bodette-Adrian College (Marquette/Michigan, 2009-12)
Sean Murphy-Arizona State University (Austin/Traverse City/Soo, 2010-13)
Defensemen
Philip Wendecker-Davenport University (Traverse City, 2007-10)
Jordan Young-Arizona State University (Wenatchee Wild, 2009-10)
Taylor Wolfe-Lindenwood University (Springfield/St. Louis, 2010-12)
Andre Rakas-Adrian College (Michigan, 2010-11)
Alex Temby-Arizona State University (Janesville/Fairbanks/Texas Tornado, 2010-13)