Bulls goaltender Delia makes NCAA Division I commitment
November 12, 2013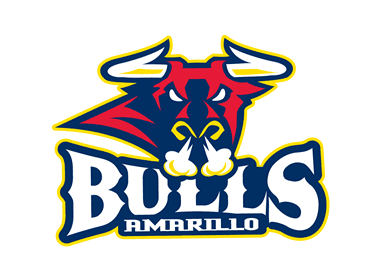 By Denis Puska, Amarillo Bulls
It's one of those feelings that is indescribable for junior hockey players, that moment when you announce your NCAA College plans.
For Amarillo Bulls goaltender Collin Delia that moment arrived when he announced his NCAA College Commitment to Merrimack College (Hockey East). Delia becomes the sixth Amarillo Bulls' player on this season's roster to secure a Division I College Commitment.
"This is a very happy moment in my life and almost surreal," said Delia. "You never think this day is never going to come but when it does, it flies by so fast that you just have to take a deep breath and cherish the moment."
Delia arrived in August with new confidence and attitude and that has carried over onto the ice. The Rancho Cucamonga, California native has posted a record of 8-1-0 with a 1.32 Goals Against Average and a .950 save percentage in 10 games this season. Delia has posted three shutouts and surrendered just 12 goals against in those starts.
"I think coming into this season I just wanted to play big in net for the team and be a leader," said Delia. "My goal is to give the team a chance to win every night so far I have done a good job at that. There have been some high and lows along the way, but the guys have found a way to pick each other up."
Delia's first season with the Amarillo Bulls could not have gone any better, working in tandem with Paul Berrafato the two backstopped the Bull's to their first National Championship in just three short seasons. In 19 games with the Bulls, Delia notched a mark of 11-2-2, and a 2.26 Goals Against Average with three shutouts.
Prior to coming to Amarillo, Delia spent two seasons developing and playing in the Tier I North American Prospects Hockey League (NAPHL). During the 2010-11 season he played for the California Titans and during the 2011-12 season he played for the Orange County Hockey Club (now Anaheim Jr. Ducks).
Amarillo Bulls Head Coach Dennis Williams said Collin's ability to push goaltender Paul Berrafato last year was a big reason why the team was able to win the Robertson Cup. "It was a great off season for Collin. He came back much more stronger, confident and determined," Williams said. "His play this year just shows how good of a goalie he can be and how much he has matured as a player."
"He competes and works hard every day in practice and is always doing it for the betterment of the program," he said. "I remember talking to him about his goals a couple of years ago and he told me he wanted to be a Division I hockey player. To be able to see Collin have this opportunity is the reason why we coach the game."
Delia said after talking with former Bulls forward Hampus Gustafsson, he knew Merrimack College was a place he wanted to go to. "Merrimack College gives me the total package with a great hockey program, academics, and small class sizes" said Delia. "It gives me every opportunity to further my hockey career as it does my career after the game."
Williams added that the Bulls have tremendous respect for both the Merrimack coaching staff and their hockey program. "I know the type of program that Head Coach Mark Dennehy runs. For Collin to have the opportunity to attend an institution like Merrimack College that excels in both academics and athletics and to have the opportunity to learn from Coach Dennehy and his staff is terrific. Furthermore, joining two of our former players in Hampus and John Gustafsson will help with the transition to the collegiate level," he said. "The Merrimack program will be getting not only a great goalie, but just a super young man that will be loyal and passionate for his team."
Delia said he has to be grateful for the opportunity, but knows the season is far from over and that there is much work to be done. "My primary focus is on helping our team win games and working twice as hard to help my teammates get an opportunity to play at the collegiate level," he said. "But right now we have our sights set on another Robertson Cup and that's what matters right now."
Delia said he owes a lot to the Amarillo Bulls and the coaching staff for getting him this opportunity and preparing him for the next level. "I don't know where I would be right now if it wasn't for the Bulls coaching staff working tirelessly to get our name out," he said. "We have on ice coaching that is unparalleled to anyone in this league. They spend countless hours on the phone talking to colleges and helping to get our name out. The systems we run and the attention to detail helps breed winners. They also really prepare us with exceptional off-ice conditioning and recovery.
"The coaches not only give us the tools to be better hockey players, but to be better individuals and excel at the collegiate level. Playing for the Amarillo Bulls has given me a sense of family, leadership and community."
Goaltender Collin Delia joins Roman Ammirato (Union), Paul Berrafato (Holy Cross), Joe Grabowski (Princeton), Brady Ferguson (Robert Morris), and Tim Moore (Robert Morris) as members of the 2013-14 Amarillo Bulls to announce their NCAA college commitments.