NAHL announces Easton Divisional Stars of the Week
October 28, 2013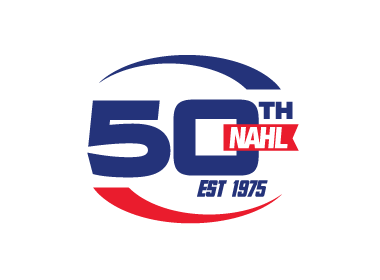 The North American Hockey League (NAHL) today announced the Divisional Stars of the Week presented by Easton for the week ending October 27, 2013. The Divisional Stars of the Week is a weekly feature during the 2013-14 regular season that honors the top performing players in each of the four NAHL divisions. Only players that are nominated by their respective teams are considered for the Divisional Players of the Week award.
Central Division Star of the Week: Huba Sekesi, forward, Bismarck Bobcats
The Bobcats are back on top of the Central Division as they share 1st place with the Austin Bruins and that is thanks to their hot play and a weekend home-and-home sweep of the Minot Minotauros this past weekend. 20-year-old forward Huba Sekesi was the shining star for the Bobcats as the native of Munich, Germany registered two goals and two assists for four points in the two wins. Both of Sekesi's (6'1/200) goals were game-winners. On Friday, Sekesi had the game-winning goal in a 3-1 win at home and on Saturday he had the game-winning goal and two assists in a 5-2 win in Minot. "I can't say enough about Huba and his start this year," said Bobcats head coach Layne Sedevie. "It has been huge for us to get that type of caliber of player on the team. He has great skill and good size and they go hand in hand in his success."
2nd Star: Nick Lehr, goaltender, Austin Bruins
Honorable Mention (alphabetical): Dillon Eichstadt, defenseman, Aberdeen Wings – Evan Hesse, forward, Brookings Blizzard – Austin Priebe, goaltender, Brookings Blizzard – Filip Starzynski, forward, Bismarck Bobcats – Patrick Steinhauser, forward, Aberdeen Wings
Midwest Division Star of the Week: Albin Karlsson, forward, Kenai River Brown Bears
Kenai River second-year forward Albin Karlsson, 19, helped the Brown Bears to a three-game weekend road sweep in Wenatchee against the Wild this weekend and help the Brown Bears stay in the top spot in the Midwest Division. The forward from Uppsala, Sweden, totaled six points in the three wins and was remarkably consistent during the weekend. On Friday, Karlsson (5'8/160) had two assists and also scored in the shootout in a 4-3 shootout win. On Saturday, he picked up two more assists in a 3-1 win. On Sunday, Karlsson scored the game-winning goal late in the 3rd period and added an assist in a 4-3 win. The most impressive stat for the weekend for Karlsson however, was that he was a +8 during the weekend. In 14 games played this season, Karlsson had 15 points.
2nd Star: Alec Butcher, forward, Kenai River Brown Bears
Honorable Mention (alphabetical): Blake Cates, goaltender, Coulee Region Chill – Billy Exell, forward, Minnesota Wilderness – Mac Jansen, forward, Coulee Region Chill – Eetu Karvinen, forward, Minnesota Magicians – Kyle Lee, forward, Fairbanks Ice Dogs – Thomas Lindstrom, forward, Minnesota Wilderness
North Division Star of the Week: Colin Brennan, goaltender, Soo Eagles
Soo Eagles goaltender Colin Brennan, 20, had some extra incentive to play well this weekend. The native of Chester, New Jersey was in his old stomping grounds of Johnstown, playing his former Tomahawks team. Soo ended up winning two of the three weekend games, and both of those were the ones that Brennan (6'1/185) started in. On Thursday, Brennan made 19 saves in a 3-0 shutout of his former team. On Saturday, Brennan got the start again and responded with 26 saves in a 4-3 win. For the weekend, Brennan stopped 45 of 48 shots for a 93.8% save percentage and a 1.50 goals against average. The shutout was Brennan's second of his NAHL career. "I think Colin was really was looking forward to playing in Johnstown because he was calm and showed a lot composure," said Eagles head coach Bruno Bragagnolo. "He made some key saves at key times. It is a battle for starting time right now between him and Paige (Skoog), so it is good to see the guys push one another to be better each time they play."
2nd Star: Mitch Maloney, forward, Port Huron Fighting Falcons
Honorable Mention (alphabetical): Alex Blankenburg, goaltender, Port Huron Fighting Falcons – Patrick Curry, forward, Springfield Jr. Blues – Jake Hopfner, forward, Michigan Warriors – Colin Larkin, forward, Michigan Warriors – Stefanos Lekkas, goaltender, Springfield Jr. Blues – Mike Sabatini, forward, Soo Eagles
South Division Star of the Week: Ben Greiner, forward, Rio Grande Valley Killer Bees
Without much pomp and circumstance the Rio Grande Valley Killer Bees have moved themselves right into the South Division race for 1st place thanks to a good start and opportunistic play as of late. That was on display this weekend as they split a pair of home games with defending champion Amarillo. Forward Ben Greiner, 20, has been the model of consistency, which included this past weekend with a pair of goals and an assist and a +2 rating in the split. On Friday, the Newport Beach, California native had the lone goal in a close 2-1 loss. On Saturday, Greiner (6'1/190) scored again and assisted on the first goal in a 4-1 win over the Bulls. For the season, Greiner leads the Killer Bees in scoring with 18 points and he is currently riding a 10-game point streak, which is second best in the NAHL this season. "Ben has been very dedicated and been a great leader in the lockerroom for this team," said Rio Grande head coach Joe Coombs. "He works hard for every thing he gets. He is playing well and staying consistent every game."
2nd Star: David Zevnik, goaltender, Wichita Falls Wildcats
Honorable Mention (alphabetical): JB Baker, forward, Rio Grande Valley Killer Bees – PJ Bridges, goaltender, Topeka RoadRunners – Collin Delia, goaltender, Amarillo Bulls – Jasen Fernsler, forward, Topeka RoadRunners – Forbes Ploszaj, goaltender, Corpus Christi IceRays – Tony Roisum, forward, Corpus Christi IceRays