24 teams in 24 days: Topeka RoadRunners
September 10, 2013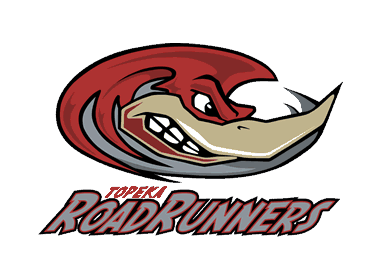 The 24 Teams in 24 Days series features a look at all 24 teams in the NAHL for the 2013-14 season, with a new team being highlighted daily, leading all the way up until the start of the regular season on Friday, September 13th as eight NAHL teams take to the ice on Opening Night. 24 in 24 will go in-depth into each NAHL team and will include interviews with all 24 head coaches in the NAHL, as they provide fans with their expectations and outlook for the 2013-14 season, including taking a look at their roster and their strengths as a team. It will also take a look back on the 2012-13 season and how each team fared and what they accomplished. Best of all, 24 in 24 is done to provide the fans of the NAHL with an inside look at their favorite team and what to expect.
Topeka RoadRunners
Head Coach: Scott Langer
2012-13 record: 39-14-7, 85 pts. (2nd in the South Division)
2012-13 leading scorer: Kyle Sharkey (59 GP, 32G, 37A, 69 Pts, +23)
2013 Playoffs: Lost in South Division Semi-Finals to Texas, 3-0
2013-14 Division: South
First regular season game and home opener: Friday, September 13th vs. Corpus Christi IceRays, 7:15pm
When it comes to stability and consistency, very few teams have done it as successfully as the Topeka RoadRuners have since arriving in Topeka back in 2007. With numerous regular season South Division titles, an overall NAHL regular season title and a couple of Robertson Cup appearances to their credit since arriving in Topeka seven years ago, it appeared that the veteran line-up they had in 2012-13 made them another strong contender in the South Division last season.
Although they did not win the South Division during the regular season, the RoadRunners posted 39 wins, which tied for fourth best in the NAHL and they finished in 2nd place behind Amarillo. They did it through a heap of injuries as well. Last season Topeka went through a total of 44 players that were on and off the roster through the course of the season. However, despite the inconsistency with a regular line-up, the RoadRunners finished the season strong, losing just six times in regulation in their final 23 regular season games. However, when it came to the playoffs, the 'Runners were the victim of an earlier exit than they would have liked, as they were swept in three games in the South Division Semi-Finals by the Texas Tornado. In the three games, the RoadRunners managed just three goals.
"I think there were a lot of positives for us last year. I think we were proud of our NCAA commitments and I was proud of the team playing well at the end of the regular season despite all the injuries we had," said RoadRunners head coach Scott Langer. "But, ultimately we didn't get the job done in the playoffs, because our ultimate goal is to win the Robertson Cup, and we fell short. It is something that hasn't sat well within the organization and it was something for us to build on since training camp started this year."
In the off-season, Langer and the RoadRunners faced the tough task of replacing some key departures. Gone from a season ago are eight of the top nine scorers from the 2012-13 season, including All-NAHL 1st Team forward Kyle Sharkey and NAHL Academic Award Winner Drew Kariofiles, who are two of the nine players on the Topeka roster who made an NCAA commitment last season. "We take a lot of pride when our guys like Kyle and Drew are recognized by the league and the NAHL coaches. I think it is a testament to their hard work and the dedication that they had both on and off the ice," said Langer.
Over half of the 2013-14 Topeka squad are new faces and when Langer was constructing the roster he was very clear on what he was looking for. "No matter what position it was, I was focused on work ethic of the players," said Langer. "It takes a lot of hard work to win games on a regular basis in the NAHL and in the South Division, so we were looking for guys across the board who worked hard on a consistent basis. Working hard in spurts doesn't get it done at this level and that was proven in the way we got knocked out in the first round of the playoffs last year. We are going to be a younger hockey team, but hopefully one that isn't going get outworked. We will have to remain patient in the process, particularly at the beginning of the season."
The RoadRunners will have two new faces in goal. One is NAHL veteran Blake Wojtala, who spent the first half of last season with the Odessa Jackalopes and then was later traded to the Jamestown Ironmen. "Blake is a guy we have had an eye on for over a year now that can come in and be that veteran presence in goal," said Langer. The other goaltender is promising 17-year-old Drew Vogler, who already has made an NCAA Division I commitment to Merrimack. "Drew has a tremendous amount of upside and is a goalie that I think will receive a lot of NHL interest," said Langer.
The blueline will the thin on veterans, but not on talent. Tomas Nechala returns as potentially one of the elite defensemen in the NAHL, which includes a solid season last year with the RoadRunners despite a limited number of games and also World Junior Tournament experience with his home country of Slovakia. "I think Tomas has great potential. He has good speed, skill and can move the puck," remarked Langer. The other veteran blueliners that Langer mentioned will play a key role include Mark Pollock and Clinton Garris. The new faces on defense include Shawn Brennan, who is a Merrimack commitment. Also Ryan Polin, who was an All-NAPHL 18U 1st Team selection last season and Philip Middleton from the Colorado Thunderbirds. "We are going to have a lot of guys battling for playing time, so their performance at the beginning of the season will be magnified," continued Langer.
Up front, the leading returning scorer for Topeka is Tyler Poulsen, who will be entering his fourth and final year in the NAHL. He had 32 points a season ago and has 94 points in 157 career NAHL games. Other key returning veteran forwards that Langer identified as those who he was going to look to for production included Jerad Tafoya, Peter Halash, James Ring, Tyler Groat and Jake Kamrass.
"If we are going to win hockey games on a consistent basis this year, it is going to be much more of a team effort. I think we aren't going to have the Kyle Sharkey's or Sean Gaffney's we had last year, but that's OK," said Langer. "We still carry the same expectations we do every season and that's to keep placing players in the NCAA and be one of the top teams in the NAHL. Just because we had to reload, doesn't mean our expectations change any. We want to win 40 games, we want to win the South Division and we want to be on top and win the Robertson Cup."
Next up in the 24 in 24 series: Wenatchee Wild