24 teams in 24 days: Soo Eagles
September 8, 2013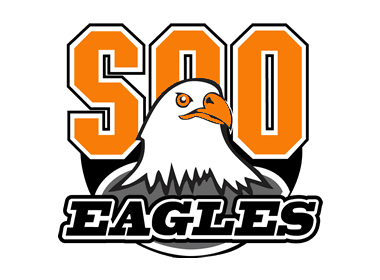 The 24 Teams in 24 Days series features a look at all 24 teams in the NAHL for the 2013-14 season, with a new team being highlighted daily, leading all the way up until the start of the regular season on Friday, September 13th as eight NAHL teams take to the ice on Opening Night. 24 in 24 will go in-depth into each NAHL team and will include interviews with all 24 head coaches in the NAHL, as they provide fans with their expectations and outlook for the 2013-14 season, including taking a look at their roster and their strengths as a team. It will also take a look back on the 2012-13 season and how each team fared and what they accomplished. Best of all, 24 in 24 is done to provide the fans of the NAHL with an inside look at their favorite team and what to expect.
Soo Eagles
Head Coach: Bruno Bragagnolo
2012-13 record: 41-14-5, 87 pts. (1st in the North Division)
2012-13 leading scorer: Jared VanWormer (60 GP, 25G, 51A, 76 Pts, +35)
2013 Playoffs: Lost in North Division Finals to Jamestown, 3-0
2013-14 Division: North
First regular season game: Wednesday, September 18th vs. Bismarck Bobcats, 7:45pm
Home opener: Friday, September 27th vs. Johnstown Tomahawks, 7:30pm
When the Soo Eagles made their NAHL debut last September, not too many people were sure what to expect. After getting off to a slow 1-4-1 start in their first six games, things didn't look great for the Eagles. Then the Eagles found their game and starting winning. The won so much that they never lost more than two games in a row in regulation the rest of the season and ended up with 41 wins, which was third best in the league last season. They won the North Division regular season crown by nine points and looked like there was no stopping them heading into the Robertson Cup playoffs. However, they were derailed in the North Finals in three straight games by the Jamestown Ironmen and the dream of winning a Robertson Cup would be put on hold.
By most accounts, including those closest to the organization, last year was a resounding success. Not only the Eagles dominate the division for the majority of the year, but their players made an everlasting impact. Not only did nine players make NCAA commitments last season, but two players cleaned up the awards when the NAHL announced its yearly honors. Forward Jared VanWormer, who committed to Ferris State last year, was named as the NAHL's Most Valuable Player and the NAHL's Top Forward, while goaltender Tyler Marble, who committed to Colorado College, was named the league's top goaltender.
Head Coach Bruno Bragagnolo said it was one of the better years he could remember. "Last year more than met my expectations. Every game in the NAHL was a dogfight and it really was a testament to the competition and parity in the league," said Bragagnolo. "I was also really impressed with the amount of scouts that attended an average game. I think the league does a great job at preparing these players to not only make a commitment, but then make an impact when they get to the next level. Every single one of our players that was a 20-year-old last season, received some type of NCAA offer."
With the amount of commitments and the departure of players of Marble and VanWormer, the Eagles were in definite rebuilding mode over the summer. Bragagnolo said the first area he wanted to address was the goaltending position. "I think Tyler Marble won us maybe at least a dozen games last year, so we wanted to make sure we had that caliber of goaltender back this season and I think that Paige Skoog can be that guy for us," said Bragagnolo.
Skoog, who had a successful career playing high school hockey in Minnesota, came to the Soo last year via a trade with Aberdeen when the Eagles sent goalie Zach Nagelvoort to the Wings. It benefitted both clubs as Nagelvoort got an NCAA commitment to the University of Michigan, while Skoog will get his full-time shot this year with the Eagles. The other goalie on the roster to begin the season is 19-year-old Max Kirkwood from Cleveland, Ohio.
Besides Skoog, the Eagles return seven regular players from last years club, which isn't a lot, but Bragagnolo said that the ones that are returning have good leadership qualities and a lot of potential. "It is definitely going to be a younger group than we had last season, but we have some veterans in the line-up, all with the potential of being Division I hockey players. We know they are going to be guys that work hard, so we will have to see how well they mesh with the others."
Leading the vets will be forward Mike Sabbatini, who had 17 points last year. Also up front, the Eagles return Michael Crowley, Matt Menta, Kyle Loridon, Pat Thompson and Denver Pierce.
With the majority of veterans being forwards, Bragagnolo said that the majority of his recruiting over the summer was spent on acquiring defensemen. Dante Suffredini is the only returner on defense who spent regular time with the Eagles last season. The Eagles picked up defensemen like Jimmy Slivka from the Chicago Fury, Brad Mueller from St. Olaf College, Bryan McFarlane from the North Iowa Bulls in the NA3HL and Michael Caruso, who played in Canada last year. Bragagnolo was particularly complimentary about new defenseman Kristofers Bindulis from Latvia. "I think he is really going to surprise a lot of people because he has a lot of skill for a 17-year-old defenseman. I think we are going to be very strong and deep defensively."
As for some of the other new blood on the roster, Bragagnolo thinks that Ryan Urso could be a player that fills the void left by VanWormer. Urso played last season in Jamestown, where he had 25 points. Bragagnolo also said that Compuware product Chase Matson has some skill and can be a goal-scorer.
"We are going to have a young group, but I like the talent and mix of character we have," said Bragagnolo. "The first goal this season for us is to try and play well in Blaine at the NAHL Showcase. We got off to a rough start last year and we want to try and prevent from something like that happening again. After that we would like to try and win the division again and get a chance to play in the Robertson Cup playoffs."
Next up in the 24 in 24 series: Springfield Jr. Blues