24 teams in 24 days: Rio Grande Valley Killer Bees
September 7, 2013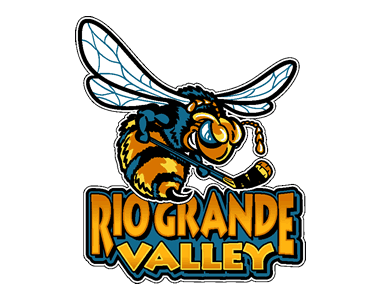 The 24 Teams in 24 Days series features a look at all 24 teams in the NAHL for the 2013-14 season, with a new team being highlighted daily, leading all the way up until the start of the regular season on Friday, September 13th as eight NAHL teams take to the ice on Opening Night. 24 in 24 will go in-depth into each NAHL team and will include interviews with all 24 head coaches in the NAHL, as they provide fans with their expectations and outlook for the 2013-14 season, including taking a look at their roster and their strengths as a team. It will also take a look back on the 2012-13 season and how each team fared and what they accomplished. Best of all, 24 in 24 is done to provide the fans of the NAHL with an inside look at their favorite team and what to expect.
Rio Grande Valley Killer Bees
Head Coach: Joe Coombs
2012-13 record: 39-15-6, 84 pts. (1st in the West Division) (as the Wenatchee Wild)
2012-13 leading scorer: Jono Davis (59 GP, 32G, 29A, 61 Pts, +15) (with Wenatchee Wild)
2013 Playoffs: Won the West Division title, lost in the Robertson Cup Championship game to Amarillo (as the Wenatchee Wild)
2013-14 Division: South
First regular season game: Friday, September 13th @ Lone Star Brahmas, 7:30pm
Home opener: Saturday, September 28th vs. Wichita Falls Wildcats, 7:00pm
In the shifting and evolving landscape of the NAHL, one of the more talked about moves over the summer came just days after the Robertson Cup Championship game. The Wenatchee Wild, who won the West Division and made it all the way to the Robertson Cup title game, announced that they were relocating their membership to Hidalgo, Texas, to become the Rio Grande Valley Killer Bees for the 2013-14 season.
The next step for the organization was to secure a head coach for the new club, and one was found less than a month later as the Killer Bees selected Joe Coombs as their first NAHL bench boss. Coombs was no stranger to junior hockey, as he had coaching experience in the CSHL (now the NA3HL) and the USHL. For the past three seasons, Coombs had served as the Associate/Assistant coach for the USHL's Dubuque Fighting Saints. In those three seasons, the Fighting Saints posted a record of 118-45-21. In 2010-11 and again last season, the Fighting Saints won the USHL's Clark Cup Championship.
Coombs said that the months since his hiring and move down the South Texas have been exciting and very busy. "It was good to get back to the point where I could be a head coach again. I was excited to get down to the Rio Grande area. I think it is going to be one of the best destination spots for players wanting to play junior hockey," said Coombs. "We have a gorgeous facility, gorgeous weather and a large backing by the community. I think it sets us up for a great situation down here for a team in the NAHL."
With an average yearly temperature of almost 75 degrees and being close to the Gulf of Mexico, their geographic location isn't the only thing the Killer Bees players will enjoy. The Killer Bees will play their home games out of State Farm Arena. The $20-million multi-purpose complex features a 6,800-seat arena that configures up to 5,500-seats for ice hockey. The arena also features 25 suites and 500 club seats. The property also includes 2,200 surface parking spaces on site, as well as a 2,000-square-foot lounge with access from outside of the arena, as well as 1,000-square foot bar and 300-square-foot pro shop.
With all the intangibles in place, Coombs had to then focus on building a squad for the 2013-14 season in a very short period of time. "We did not have the benefits of having a lot of guys that were returning to the club that played in Wenatchee last season," said Coombs. "We tried to go out and find some scoring and some puck-moving defensemen. We wanted to be a team that is going to be a threat to score from multiple areas."
Even though there is only four of them, those players that are returning to the Killer Bees who played in Wenatchee are good and proven ones. Forwards Tyler Bruneteau, Evan Schmidbauer, Nathan Flynn and defenseman Dylan Abood all return to the club with the experience of playing in Wenatchee last season, which including the run to the Robertson Cup. Schmidbauer had 14 goals and 22 points last season and also brings a physical presence to the line-up.
"Evan (Schmidbauer) understands what it takes to be a leader, so we will look for that early from a guy like him. I think the others are also guys that can be leaders and really help the new players along when it comes to traveling and taking care of yourself on a daily basis. There is a lot more that goes into being successful at this level than just having talent. You have to be responsible on and off the ice and I think our group of veterans we have will help us do that," said Coombs.
In goal, Rio has a mix of young and old. Olli Kalkaja, a 20-year-old goalie from Finland, is likely to be the team's opening night starter. The other goalie is Ryan Mulka, who just turned 18-years-old. "Olli is a guy that has a proven track record of success in Europe, but he wants to play in the NCAA," said Coombs. "Ryan is a younger guy who really stood out in our camp. I have watched him for a couple of years now and I think he has really grown and developed and he is going to be one heck of the goalie," said Coombs.
Although Coombs didn't elaborate on the entire roster, he said that he believes it not only the right mix of young and old, but also a combination of players that come from a variety of backgrounds. "I think the guys on this year's roster are guys who want to be here. Maybe it is a guy that didn't work out in his first situation in junior hockey and is using Rio and the NAHL as a second chance," said Coombs. "I think there is a lot of talent and a lot of guys with unlimited potential. I also think we have some younger guys that will get some NCAA and NHL interest pretty soon. Regardless of who it is, it is our job as coaches to get the most out of them while playing in the NAHL so they can get that opportunity to move on."
"We want to better each day we touch the ice. There has to be accountability on the players end, but we are going to be prepared and if we execute properly, we should be OK. In the grand picture, we want to move kids onto the NCAA and win hockey games on a consistent basis," said Coombs.
Next up in the 24 in 24 series: Soo Eagles