24 teams in 24 days: Port Huron Fighting Falcons
September 6, 2013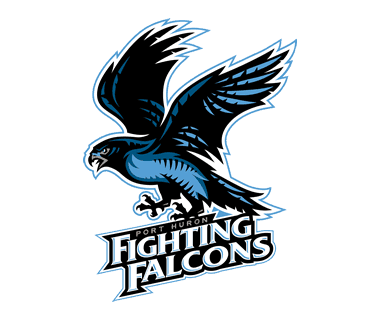 The 24 Teams in 24 Days series features a look at all 24 teams in the NAHL for the 2013-14 season, with a new team being highlighted daily, leading all the way up until the start of the regular season on Friday, September 13th as eight NAHL teams take to the ice on Opening Night. 24 in 24 will go in-depth into each NAHL team and will include interviews with all 24 head coaches in the NAHL, as they provide fans with their expectations and outlook for the 2013-14 season, including taking a look at their roster and their strengths as a team. It will also take a look back on the 2012-13 season and how each team fared and what they accomplished. Best of all, 24 in 24 is done to provide the fans of the NAHL with an inside look at their favorite team and what to expect.
Port Huron Fighting Falcons
Head Coach: Michael Gershon
2012-13 record: 32-24-4, 68 pts. (4th in the North Division)
2012-13 leading scorer: Rick DeRosa (59 GP, 14G, 28A, 42 Pts, +15)
2013 Playoffs: Lost to the Soo Eagles in the North Division Semi-Finals, 3-0
2013-14 Division: North
First regular season game: Saturday, September 14th @ Johnstown Tomahawks, 7:30pm
Home opener: Saturday, September 28th vs. Michigan Warriors, 7:00pm
After coming off a Robertson Cup appearance in the Spring of 2012, the Port Huron Fighting Falcons jumped out a good 10-6-0 start to begin the 2012-13 season last year. However, in late October a coaching change was made and assistant coach Michael Gershon took the reigns as head coach for the remainder of the season. "Taking over in October, I wasn't sure what we were going to get. It was initially tough on the players and having to understand the different systems and structure involved, but after the trade deadline in early February we really started to click and play well," said Gerhson.
After struggling to a sub .500 record right after the first half the season, Port Huron quickly turned the ship around and became one of the hottest teams in the NAHL the final two months of the regular season. "I think guys didn't want to go out with just an average season, so they really bought into the system and most importantly, worked really hard," said Gershon. "I think we knew there was a lot of talent and skill on the roster, it was just a matter of harnessing and making the most of that. I was really proud of the team and they way they turned things around. Despite being swept in the North Division Semi-Finals by the Soo Eagles, I thought we played well enough to win. We just ran into a team with a really good goalie."
Port Huron did show that they were certainly worthy of being a contender to win the North Division playoffs after their quarterfinal series win over the Johnstown Tomahawks. After splitting the first two games in Port Huron, the Fighting Falcons had to go on the road to win the third and deciding Game 3. In a tough and hostile environment and facing elimination, the Fighting Falcons reached down deep and came from two goals down in the 3rd period to ultimately win 4-3 in overtime and advance in the playoffs. "I was proud of the way our guys battled and fought and I thought it was really encouraging for us as a group. We left everything out there at the end of the season, so there was nothing to hang our heads about," said Gerhson.
Gerhson and the Fighting Falcons organization also took a lot of pride in the advancement of their players. A total of 12 players, including two alumni of the team, made NCAA commitments throughout the season. "It is one of the things that really has been a point of emphasis for this organization. We want to turn over 40-60% of the team each season because we are consistently advancing players to the right spots," said Gershon. "We are focused just as much on player development and advancement as we are winning on the ice, so we feel like last season we were able to be successful in both areas."
During the off-season, Gerhson had his first crack at constructing the 2013-14 team. "We lost a lot of our scoring from a season ago, but our plan was to become a deeper team this season with the ability to run four lines and three sets of defensemen on a consistent basis," said Gershon. "We went out and tried to find guys that had an intelligence for the game and who had some speed and aggressiveness. I want to be a much more aggressive team this year that is always on the attack. I don't think we are going to have the personnel that is going to put up 70-80 points, but our goal is to have as many players possible on the roster be in that 20, 30, 40-point range that really shows our depth," said Gershon.
Any big question mark to begin the season is goaltender, but it appears likely that the Fighting Falcons will enter the 2013-14 season with both goalies from last year, Max Milosek and Alex Blankenberg, back between the pipes. Both ranked in the Top 20 last year in the NAHL in goals against average and save percentage. They backstopped a Port Huron defense that allowed just 2.72 goals against per game last season, which ranked 9th last season in the NAHL. "We feel pretty fortunate to have goalies of their caliber and experience back in goal," said Gershon.
The 2013-14 Fighting Falcons will be an experienced group of players with 8-9 returning players and two-thirds of the roster being either 19 or 20-year-olds. "We are going to have a good balance and a good mix of younger and older players, so we feel very comfortable with who we have on our roster right now," said Gershon. "I feel like our strength to begin the season will be a solid defense with both returning goalies and veterans like Jonathan Kopacka, Bobby Brown and Alex Archibald. We also feel like Nick Lesage and Joe Lindberg are going to be great new additions back on the blueline."
Up front, Gershon mentioned that Vito Aluia, Bryan Yim and Mitch Maloney will start the season as a scoring line. Forward Nick Horne will also return for his final season of junior hockey. Noah Batis and Taylor Fernandez are a couple of new forwards from Victory Honda that Gershon is encouraged about. 17-year-old Matt Jones will be one of the youngest players on the roster, but is loaded with talent.
"Our goals are to get back to the playoffs and hopefully once we get there, to make an extended run. We want to be a consistent contender in our division. Just getting ourselves in a position to be there at the end of the year is the main goal," said Gershon. "We also want to continue to be a league-leader in developing and moving players onto the next level."
Next up in the 24 in 24 series: Rio Grande Valley Killer Bees