24 teams in 24 days: Odessa Jackalopes
September 5, 2013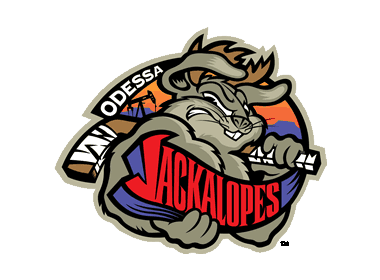 The 24 Teams in 24 Days series features a look at all 24 teams in the NAHL for the 2013-14 season, with a new team being highlighted daily, leading all the way up until the start of the regular season on Friday, September 13th as eight NAHL teams take to the ice on Opening Night. 24 in 24 will go in-depth into each NAHL team and will include interviews with all 24 head coaches in the NAHL, as they provide fans with their expectations and outlook for the 2013-14 season, including taking a look at their roster and their strengths as a team. It will also take a look back on the 2012-13 season and how each team fared and what they accomplished. Best of all, 24 in 24 is done to provide the fans of the NAHL with an inside look at their favorite team and what to expect.
Odessa Jackalopes
Head Coach: Matt Cressman
2012-13 record: 6-51-3, 15 pts. (6th in the South Division)
2012-13 leading scorer: Anthony Olguin (53 GP, 12G, 18A, 30 Pts, -32)
2013 Playoffs: Did not qualify
2013-14 Division: South
First regular season game: Friday, September 13th @ Wichita Falls Wildcats, 7:05pm
Home opener: Friday, October 4th vs. Rio Grande Valley Killer Bees, 7:17pm
It was a busy off-season for the Odessa Jackalopes. After riding the high of making the playoffs in 2011-12 and seeing goaltender Connor Hellebuyck drafted into the NHL, the Jacks hoped the wave of momentum would continue right into the 2012-13 season. The Jackalopes actually jumped out to a decent start, going 3-3-1 in their first seven games. All three of their wins in that time frame was against eventual playoff teams: Kenai River, Minot and Topeka. However, the remainder of the season would be more difficult as the Jacks were unable to find the consistency and wins they were hoping for, as they finished at the bottom of the South Division. All was not lost however as seven players who played for the Jackalopes during the 2012-13 season made NCAA commitments.
The Jackalopes didn't waste much time instituting a culture shift as less than two weeks after the regular season ended, they announced a head coaching change. Out was long-time head coach Paul Gillis, and in was assistant Matt Cressman. A familiar face in Odessa, Cressman spent a decade in the minor pro ranks, playing for teams in the WPHL, ECHL and CHL from 1997-2007, including six seasons as a member of the Jackalopes, from 2001-02 until his retirement as a player in early 2007. A four-year letter-winner at Western Michigan University, Cressman remains among the Jackalopes' all-time scoring leaders, ranking in the top ten in franchise history in games played (341), points (182), goals (76), assists (106), penalty minutes (380), short-handed goals (4), game-winning goals (18) and hat tricks (2). Following his playing career, Cressman served as Assistant Coach for the Jacks under Gillis for six seasons and was named President of Hockey Operations prior to the 2011-12 campaign.
"I have enjoyed the process so far and I am blessed to have a great group of assistant coaches and an ownership group that has shown a lot of support and commitment," said Cressman. "We have great support from the community as well, so it has been great."
Knowing he would have a busy off-season, Cressman said that he needed to start from scratch. "I think the biggest thing was assessing our compete level as a group. We wanted to find players who would work hard, compete and did not like to loose," said Cressman. "More than anything, we were looking for guys who wanted to be around and be a part of a winning culture."
The roster for the Jackalopes in 2013-14 will be almost entirely new. Only three players from last years club will be returning, meaning that the Jacks will have 22 new faces on the roster. Those three returners include forward Trace Jablin and defensemen Cody Slocum and Chris Taff. Slocum and Taff are both 19-year-old blueliners, who can also bring some offensive upside, while Jablin had a lot of scoring success in the NA3HL with St. Louis prior to his late arrival in Odessa last season. "They were guys we identified that would bring some leadership and hard work to the table. I think all three of them have proven they are good teammates and are strong mentally. I think they will let an experience like last season be a motivator and a building block for them," said Cressman.
As for the new players on the roster, their selection was a combination of youth and skill. Half of the Odessa roster this season are players that are 18-years-old or younger. "We have learned in our couple of years being involved in the NAHL that there is a huge emphasis of developing these players to the point where they can move onto the NCAA," said Cressman. "I think having a younger squad like we are going to have this season is a good thing, because they have a longer window to develop the good day-to-day habits they need to have success at this level and they are hungry for success."
The Jackalopes will have two new goalies this season and Cressman said that goalie coach Cody Campbell worked very hard in finding the right combination. The veteran of the duo is Yoshihiro Kuroiwa, a native of Japan, who has experience in the NAPHL and played junior hockey out East last season. The other goalie is 18-year-old Eric Hancock, who has spent the last three seasons with the Cleveland Barons Tier I midget program. "Both had a great camp and both guys will work hard and compete every night. It is important that they have the support and respect of their teammates, which both have been able to accomplish in a short period of time since training camp opened," said Cressman.
As for the rest of the group, Cressman said at this time it is tough to tell because of the clean slate that was implemented. "Everyone is going to be given an opportunity to earn their playing time. Because we are dealing with such a big group of new players, there are still a lot of unknows with our group," said Cressman. "We know they are a group of competitors who will be working hard from the start, but it is going to take some game situations to understand what we really have and who works well in the different situations."
"I expect greatness from this team this season. All the players are here with a mindset that we are going to compete, work hard and try and win every game we play," said Cressman. "A lot of teams start with a clean slate during the summer and we are no different. We know we play in a tough division and there are no nights off, but we are confident in the group we have assembled and expect good things from them."
Next up in the 24 in 24 series: Port Huron Fighting Falcons